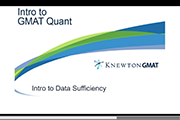 In part two of Knewton's Intro to GMAT Quant lesson, Jess and Rich walk you through the fundamentals of Data Sufficiency.
Learn the two main types of DS questions you need to recognize on test day, and be sure to check out the rule that has to be second nature for every GMAT student: On Yes/No Data Sufficiency questions, "no" does not necessarily mean "insufficient"!
If you liked this article, let Knewton know by clicking Like.