Accelerate Your Career in an Accelerated MBA Program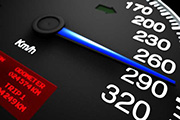 MBA programs in the United States are usually a two-year affair, but there are some business schools that offer the same curriculum in much less time. And the fast track is not a new phenomenon – the University of Pittsburgh's Katz School has been offering its one-year MBA since 1963. Accelerated MBAs may be less common in the United States than in Europe, but they are gaining traction.
Accelerated MBAs typically take between 10 and 15 months to complete, though one-year programs are the most prevalent. It's a rigorous schedule, with more than 15 hours per week spent on studies outside the classroom, but advocates say the condensed coursework and rapid pace create an intense experience that makes students more focused and driven.
Schools that Offer Accelerated MBA Programs
In The Wall Street Journal's ranking of accelerated MBA programs, five U.S. schools made the top 15: Northwestern University (Kellogg); Babson College (Olin); Miami University (Farmer); Emory University (Goizueta); and Cornell University (Johnson). In Poets&Quants' ranking, additional U.S. schools offering accelerated MBAs include the University of Southern California (Marshall); University of Notre Dame (Mendoza); Boston University; Thunderbird School; University of Florida (Hough); University of Pittsburgh (Katz); Pepperdine University (Graziadio); and Willamette University (Atkinson).
Though fast-track MBAs are typically full-time programs, that's not always the case. Dowling College (Townsend) offers a Saturday Accelerated MBA program, where students can earn their degree in three semesters of weekend courses. And Baruch College (Zicklin) offers an accelerated part-time MBA program that can be completed in 28 months.
The Benefits
Among those surveyed by The Wall Street Journal, more than 82 percent of students listed the ability to re-enter the workforce faster as the driving factor for pursuing a fast-track MBA. Earning the same degree in half the time brings considerable savings in tuition and fees and room and board, not to mention recovering a year of lost wages.
Plus, most survey respondents said recruiters and managers view their fast-track degree in the same light as a two-year degree. And according to Poets&Quants, several schools report that their one-year MBAs make slightly more than graduates of their traditional programs, which is largely the result of differences in work experience.
The Drawbacks
Of course, accelerated MBA programs are not the right choice for everyone. Career changers tend to be at a disadvantage in one-year MBA programs because they lose the benefit of a summer internship, which has increasingly become a prerequisite for a job offer. One-year MBA students may also lose out on the bonding experience inherent in a two-year program, which often requires cohorts of students to go through the first year of core courses together.
Some students find the fast-paced curriculum of an accelerated MBA program exhausting, leaving little time for worthwhile extracurricular activities such as business-plan competitions. Students may also wish for more time to absorb case studies. And deans at prestigious schools such as Harvard, Stanford, Wharton, Dartmouth and Chicago still believe that the ideal MBA program is a two-year, all- encompassing experience with an internship, global immersion trip, and full menu of electives that allow more time for specialization.
Though accelerated MBA programs offer an incredible opportunity to complete a coveted degree in a short amount of time, they're not for everyone. Before choosing between an accelerated and a traditional MBA, take time to evaluate your needs so you can find the degree program that's right for you.
***
Robyn Tellefsen is a staff writer for MyEducation.com, which enables prospective students to find out more about online learning degree opportunities. When she's not busy helping people discover their life's calling, Robyn enjoys cuddling with her kids, reading young adult fiction, and singing in her church's praise band.
If you liked this article, let HowToMBA know by clicking Like.