Part-Time vs. Full-Time MBA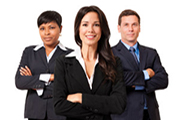 The decision to enrol in an MBA program represents a turning point in many careers, yet two more important decisions remain to be made: which business school to attend and whether to enroll as a full-time or part-time student. The course content is fundamentally the same between these two types of programs, but the way it is delivered can impact students in very different ways.
Impact on Schedule
Part-time MBA programs are designed for professionals who want to continue working full time while earning their degree. They typically enroll in one or two courses at a time and complete their MBA in three to five years. Intensive seminars and lectures are scheduled in the evening after working hours or on a few designated weekends per semester. Working MBA students are able to apply what they learn in class to their job, and they don't need to forgo career advancement in their current position while they attend business school. Most part-time MBA students with full-time jobs will admit that juggling work and school is challenging, but the professional and personal rewards are worth the effort.
Students enrolled in full-time MBA programs are expected to be fully committed to their studies and to carry a larger class load than their part-time counterparts. Because their time is not divided between school and work, they can earn an MBA degree in 12 to 18 months. Full-time students are able to become immersed in their business school experience and spend more time collaborating and networking with their fellow students.
Impact on Finances
For many MBA students, the decision on whether to attend business school full-time or part-time is purely financial. Students who need to work in order to pay their tuition and cover living expenses often find that financing a part-time MBA is more manageable. Employed MBA students may be able eligible for full or partial tuition reimbursement from their employers; in general, working students require less assistance from student loans. Bloomberg Businessweek reports that the majority of full-time business school students who finance their MBA with student loans will graduate with a greater debt load than part-time students.
Online MBAs
According to U.S. News & World Report, the top 100 business schools that offer both part-time and full-time MBA programs had more part-time students in 2011. A portion of these part-time students were enrolled in online MBA programs. Online programs allow students to complete coursework via the Internet and reduce the amount of time spent commuting to class. Some leading business schools are finding that blending elements of traditional and online programs is especially effective for part-time students.
—
Choosing between a part-time vs. full-time MBA program is a personal decision that will be heavily influenced by individual considerations. Younger students who have little work experience can benefit greatly from immersion in business school and from the summer internships that are required in many full-time programs. For working professionals who have personal and professional responsibilities, a part-time program (whether on campus or online) may be a more practical option. Once a program format has been chosen, the next step is to study MBA rankings and program descriptions, and decide which MBA degree program is the best fit for your personal requirements.
If you liked this article, let HowToMBA know by clicking Like.