10 Keys to Success For Your First Year of Graduate School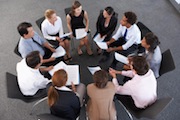 I often see many of my under graduate and graduate students becoming overwhelmed or failing to be as successful as I know they can be with their selected programs.
As someone who is in a doctoral program, teaches at the undergrad and graduate level, and has been in a masters program, I want to offer a few helpful hints to keep you on the road to success.
Prepare for graduate school in advance. Begin your research and preparation at least 12 months in advance to allow time to research the right graduate program and its requirements. This also allows for time for test prep, practice tests, and at least 3 months to prepare for the GMAT.
Keep courses focused. Do not choose elective courses based on the professors score on RateMyProfessors.  Pick courses you have an interest in and courses that relate to your overall professional and academic goals.
Meet with your advisor.  Set aside some time to speak with your advisor, they are there for your success. Go over goals and expectations of your program as well as any hurdles you may be having. It is not a bad idea to send an update once in a while.
Write your goals down. We have heard this time and time again, but it really does work! It is a great feeling to cross items off your list, and see a visual representation of what you have accomplished. Your list may be as simple as the courses you need to take. An app you may like is Wunderlist, which allows the user to organize everything and utilize it everywhere from your laptop to your phone, and it is free. This is not your everyday "to do list"!
Network.  The people you meet in graduate school can potentially hold the connections you need for future employment or provide the leads you may need for business. I discussed this concept in a previous post on Howtomba.com back in August. Don't be shy, reach out to classmates and make connections via LinkedIn, Twitter, or even email. This applies to your instructors as well. They can be a source of encouragement and information during your school years as well as after graduation.
Keep up with current events.  Case studies are usually part of all graduate work and look to past issues in business as learning opportunities for students. However, don't get behind on current events. Consider daily or weekly business newspaper/periodical/website reading a critical part of your agenda. I utilize Google Reader for organizing and reading materials so I am not spending a majority of my time visiting websites or blogs individually. Staying current will lead to further understanding of the business environment when you are in search of employment.
Take short breaks. I write a lot for my doctoral work, and can sit at my desk for hours if allowed to. I find I work better with one hour writing and then a break. I will take my dog on a short walk, do laundry, or fix a snack. I have also found that longer breaks are counter-productive (for me). If I take too long of a break, I get side tracked and will not be as focused. Keep your study sessions or writing sessions to 30 minute to an hour long, with a brief break in between. 
Pay attention to point values. The biggest issue I have and most of my students have is the lack of time to give 100% to school, 100% to work, and 100% to family. There are times you may not be able to give 100% to an assignment.  However, pay attention to point values! Focus your time and energy on the activities that produce the greatest results. 
Acknowledge your hard work. If you spent all week on one assignment (as I often do), take time to celebrate.  I spend so many hours working on schoolwork and work, that I rarely have time for television. As silly as it seems, I reward myself with an hour watching my DVR. This is my one hour to not think about work or school, instead indulge in my guilty pleasure: General Hospital. This is merely a small way to reward yourself, in any way you want. Appreciate each of your accomplishments. If a Masters or Doctorate were easy, we would all have them!
Know your limits. Graduate school is like a second job. I have found I have to budget nearly 30-40 hours a week for school related work on top of my job duties and family obligations. As much preparation as I took to get here, my husband and I were still not prepared for the amount of stress my PhD program has created or the impact it would make on my family. Be realistic about your strengths and weaknesses, and schedule accordingly.  I have recognized my weaknesses, one being I tend to be very strict on my deadline to complete my PhD. This in turn has resulting in taking too many courses in a term, and switching to an accelerated program. Neither is really a bad idea, but doing them BOTH…not my most stellar moments!
Remember, the MBA is a starting point. Your MBA is a great foundation for future success. However, it is not the sole indicator of success. Be prepared to continue learning and developing more skills to make yourself more marketable to employers. The MBA is a huge accomplishment, one you should be quite proud of. However, do not lose site of what makes us all well-rounded individuals: balance.suc
Jessica is a Dallas based Adjunct Marketing Instructor at Texas A&M University- Commerce and Southern New Hampshire University. She is currently working on her PhD in Business with an emphasis on Marketing; her dissertation research is focused on Social Media. Jessica teaches both undergraduate and graduate level courses in Marketing, including Social Media, and has 16 years of field experience in business and marketing before starting her teaching career in 2009. Jessica holds a BS in Business Administration and an MS in Marketing.
If you liked this article, let HowToMBA know by clicking Like.