Choosing Your Recommendation Writers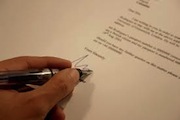 If you plan on applying to top-ranked MBA programs in Round 1, then you should already be working on your applications. That does not  mean that you should already have drafts of all of your essays, but it does mean that you should already have your MBA Game Plan laid out. That includes knowing who you will want to have write your letters of recommendation.
This is often the toughest for applicants since it is something that's largely out of their control. Even with all the planning in the world, business school applicants still need to put their fate in someone else's hands, and hope that their recommenders come through for them. So how do you know who is the best candidate for writing your letters of recommendation?
Without a doubt, the most important thing is making sure that your recommendation writers know you well. You would be surprised how often we have clients approach us and say something along the lines of, "I think I can get my CEO to write a letter of recommendation for me. I should get one from him, right?" If your CEO hasn't worked with you closely, and cannot write about your strengths and potential in great detail, then this is less of an asset than you might thing. MBA admissions officers are impressed by what YOU have done, not by what your recommendation writer has done.
Make no mistake… There are exceptions to this rule, but the bar is very high. Is your boss an important, influential alumnus who also happens to be a big financial contributor to the school? Well, now you just might have a real asset. But simply knowing someone who has a big title is not enough.
It is critical that your recommenders can provide details and specifics about you. As Harvard's Dee Leopold wrote in an old blog post, "What we are hoping for are brief recounts of specific situations and how you performed." Any recommendation written in general terms — e.g., "She has the makings of a great leader… He is a good team player…" — will fail to leave a lasting impression on any business school admissions officer. While your recommendations do not all have to come from the workplace, the best ones are usually written by someone who has evaluated your performance.
Of course, you may not be able to get a recommendation from your current supervisor. This is less of a big deal than you might think. While most schools will ask for a brief explanation if you do not  provide a recommendation from your current boss, they get it. Many managers may not support such a move. If you fall into this camp, take a look at some of our previously posted advice on what to do if you can't get a letter of recommendation from your boss.
Also, simply knowing current student or grad from your target school usually does not give you any kind of leg up. In some cases it may (we sometimes urge our clients to rely on these sources when they're fighting to get off of the wait list), but this is rarely a silver bullet. We would not choose a current student or alum to write one of your two or three recommendations for a given school if that's the only reason you were going to choose them, but if someone meets the important criteria mentioned above and also happens to be a part of your target business school's community, then they may be an excellent choice.
If you liked this article, let Veritas Prep know by clicking Like.