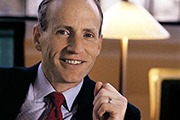 Yale's School of Management today (Aug. 22) said that up to $20 million of losses endured by the university's business school in the past 15 years were actually "strategic long-term investments."
In a lengthy statement on SOM's website, the school sought to correct what it called "inaccuracies" resulting from the disclosure that it had lost $15 million to $20 million over the last 15 years. The losses were revealed by SOM Dean Edward A. Snyder in an interview published in the New York Times Magazine earlier this month. U.S. News & World Report picked the story up this week.
The losses were not entirely surprising because Yale has remained a relatively small and less ambitious player in the business school market, with a high faculty-to-student ratio, a small student enrollment, and few executive education offerings. Even so, it was somewhat shocking that the school lost that much money during what were widely considered boom years for MBA education.
Yale: losses were not the result of financial mismanagement
In any case, the school decided to offset the disclosure of the losses with a fuller explanation of why they occurred. "These stories exclude essential context and related facts that were provided," the school said. "Worse, some assertions are, put simply, untrue. Both the Times and U.S. News articles implied that these losses were the result of financial mismanagement, and that is false. During years when some older, more well established schools saw operating surpluses, Yale SOM was making strategic long-term investments, as any enterprise in a growth phase must do, particularly if it wishes to innovate. These small, controlled operating deficits, the last of which occurred in the fiscal year ended June 30, 2008, were the result of deliberate choice. Moreover, these deficits were completely financed by a donor fund that had been established expressly for the purpose of making such investments."
The statement was not attributed to Dean Snyder or any other school official.
"For the past three years, the school's operating budget has been in the black. Yale SOM posted operating surpluses even as other organizations, both commercial and nonprofit, struggled, and in many cases faltered, as a result of the global economic crisis that began in 2008. The school is by no means 'bleeding cash,' as U.S. News states, nor has it been in a 'financial dive.'"
The school also took exception to U.S. News raising the question of whether prospective MBA students should be concerned about the financial condition of the school. "We hope that this fact check—the timing and rationale of past operating deficits that were covered by donor funds—eases any concerns that may have arisen from the way the media chose to interpret the information they collected," the school added. "A more thorough look at the school's development shows a thriving organization in the process of expanding its global presence, not a mismanaged one."
Yale says it will continue to focus on its dual-mission
Yale also took issue with a suggestion in the New York Times piece that Yale SOM had to change its mission of educating both for profit and non-profit leaders.
"Having corrected inaccuracies about Yale SOM's financials, it is important to address another point in the New York Times Magazine piece," the school said. "That article suggested that, to be successful, Yale SOM would need to shed its reputation for doing good: In other words, our mission for educating leaders for business and society. We could not disagree more. As Dean Snyder recently told the full-time MBA Class of 2014 during their orientation, this mission 'is in our DNA.'"
DON'T MISS: YALE'S B-SCHOOL LOST $15 TO $20 MILLION or CAN TED SNYDER WORK HIS MAGIC ON YALE'S SCHOOL OF MANAGEMENT?
If you liked this article, let John Byrne know by clicking Like.