The Incredible Shrinking MBA App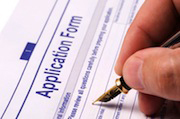 It started with Harvard Business School's decision in May to cut in half the number of essays required of MBA applicants.
Then, Stanford's Graduate School of Business dropped an essay requirement, going from four essays to just three. MIT Sloan scrapped one of three required essays for this year. And only last week, Northwestern University's Kellogg School of Management cut by nearly a third the total word limit on its essays to 1,525 words from 2,200 last year.
One of Kellogg's essays—"What one interesting or fun fact would you want your future Kellogg classmates to know about you?"—now has a limit of just 25 words!
One potential applicant quipped that the day will soon be here when business schools reduce their essays to a mere 140-character tweet. In fact, the University of Iowa's Tippie School last year awarded a free scholarship to an applicant who submitted a winning tweet as part of his MBA application.
'Something is being lost'
"Almost every school has either reduced the number of questions or shortened its word limits this year," says Linda Abraham, founder and president of Accepted.com, a prominent admissions consulting firm. "I don't think anyone wants to write the American novel here, but something is being lost. The knee jerk response from some applicants is, 'Great. I can write less.' But it means that a school won't get to know its applicants as well and applicants will find it more difficult to express the nuances in their applications that can improve their chances of getting in."
What's behind the incredible shrinking MBA application? Dee Leopold, Harvard Business School's managing director of MBA admissions and financial aid, has long believed that the essay portion of the application had become too large a part of the admissions process. "I've been saying that admissions is not an essay writing contest and that is where a lot of the anxiety (among applicants) is," Leopold said. "When we never met anyone, essays were the only way we had for applicants to get some form of personalization of the application. But since the Class of 2004, we've been interviewing all admitted applicants. The interviews are a big investment of our time, money and assessment energy, so I think it's time to have a corresponding reduction in that initial (essay) hurdle."
Indeed, when the changes by Harvard were first announced on May 22, the school said that applicants who were invited to an admissions interview would then have to submit a third essay–a reflection on the interview itself–within 24 hours. Since then, however, Leopold has even scaled this requirement back to little more than an email with no word limits. "Think of this as an email you might write after a meeting," she wrote on her blog. "We will be much more generous in our reaction to typos and grammatical errors than we will be with pre-packaged responses."
Leopold's change of heart also clearly signaled the school's desire that applicants not use MBA admission consultants to draft or polish the response. "Emails that give any indication that they were produced BEFORE you had the interview will raise a flag for us. We do not expect you to solicit or receive any outside assistance with this exercise," she added.
Is a consulting backlash to blame for the cutbacks?
Some admission consultants now believe the cutbacks reflect something of a backlash to their increasing involvement in the application process. To the top ten schools, some consultants now estimate that eight of every ten international applicants are using their services and as many as half of all domestic applicants. Reducing the number of essays required and shortening the word limit ostensibly gives applicants less reason to employ a consultant. Asked by Poets&Quants how Leopold believes consultants would react to Harvard's changes, she had said, "It's going to be disruptive to admission consultants who write essays."
The University of Michigan's Ross School has said it is putting more weight on admission interviews due to concerns that the essays it is receiving may not be fully reflective of an applicant's ability. The University of Pennsylvania's Wharton School has told MBA candidates that it is adding an in-person, team-based discussion exercise as part of its application process this year—another wrinkle that would minimize a consultant's influence over an application. Duke University's Fuqua School of Business last year began asking candidates on its online application whether they used an admissions consultant to help them with their application.
"Schools have been bashing admission consultants for a long time, but you have to distinguish between essay writing services and consultants who coach applicants through the process," says Jana Blanchette, president and founder of San Diego-based Inside MBA Admissions. "It's pretty obvious they're trying to find ways to push back on admission consultants, but it's a much more complex picture.
"The irony is that the more they try to screen us out, the more they are really screening us back in." She reasons that while many schools have cutback on required essays, they also are asking more introspective questions. "It's hard to get someone in their early to mid-20s to be introspective alone," adds Blanchette. "They need help."
Essay cutbacks also free up admissions staff
There may well be very pragmatic reasons for the cutbacks. Reducing the workload on an admissions staff allows a school to focus more resources on outreach and applicant recruitment efforts. At a time when most schools have reported declines in applications for the past couple of years, it also lowers the hurdle rate for future applicants, making it more likely that a school could reverse the fall in applications. "It reduces their costs and will increase their applications," predicts Abraham of Accepted.com.
Abraham believes that the trend could potentially compromise what she considers the more comprehensive review that business schools do on their applicants. "The MBA application process has been the most holistic of all the graduate schools, says Abraham, whose consulting firm also assists applicants to both law and medical schools. "At the risk of sounding self-interested, the truth is it would be a shame if that were no longer true."
Not everyone thinks the trend is a bad thing. "I think the lower word count will actually help candidates focus," says Betsy Massar, founder of Master Admissions. "In the application process as well as real life, MBA students need to get to the point quickly and succinctly. So the application now requires a higher level of communication skill. Aspiring MBAs will need to work smarter to get their messaging across, and that will be helpful in the classroom, in the job search, and in their roles as leaders."
DON'T MISS: 2012-2013 APPLICATION DEADLINES FOR TOP BUSINESS SCHOOLS or BEHIND HARVARD'S BIG ADMISSIONS CHANGES
If you liked this article, let John Byrne know by clicking Like.