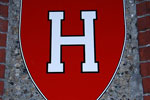 Harvard Business School is telling MBA applicants worried about a new 24-hour deadline for a reflection on their admissions interview that the school is really looking for an email-not a highly polished 400-word essay.
Dee Leopold, managing director of admissions and financial aid at Harvard, acknowledged in a blog post on June 29th that her office is getting lots of questions over the recently announced changes to its MBA admission policies, the most significant since 2002 when HBS required interviews for all admitted candidates. "And your questions have actually been helpful as we put the finishing touches on this exercise," she wrote.
Leopold said applicants who gain an interview with Harvard will have to answer a simple question: "You've just had your HBS interview. Tell us about it. How well did we get to know you?"
'THINK OF THIS AS AN EMAIL YOU MIGHT WRITE AFTER A MEETING,' ADVISES LEOPOLD
HBS has decided that it will not impose a word limit on the answer and will no longer consider it an essay. Added Leopold: "We think the instruction memo will look something like this: 'This is not an essay. Think of this as an email you might write after a meeting. We will be much more generous in our reaction to typos and grammatical errors than we will be with pre-packaged responses."
Leopold's latest instructions also clearly communicate the school's desire that applicants not use MBA admission consultants to draft or polish the response. "Emails that give any indication that they were produced BEFORE you had the interview will raise a flag for us. We do not expect you to solicit or receive any outside assistance with this exercise."
SOME CONSULTANTS HAD BEEN ADVISING CLIENTS TO DRAFT THE POST-INTERVIEW ESSAY EARLY
The warning comes amidst concern that some admission consultants were telling applicants to deliberately hold back some details in the first two essays required of a Harvard application so that they could prepare the third post-interview essay in advance and then tweak.
Leopold made clear that the school is not expecting another typical essay. "Here's what we're thinking: This is NOT another essay. We want your response to be much more like an email. Why? In the Real World, it is unlikely that you will be given months and months to craft essays of any sort. It just doesn't happen. In the Real World, it is almost a sure thing that you will be asked to write emails summarizing meetings and giving your opinion in a short time frame. Since HBS tries to be as "close to practice" as possible, this shift from essays to more real time writing feels appropriate.
'THERE IS NO FORMULA, NO TEMPLATE'
"I know this is hard to hear but this should NOT be a cause for anxiety. We want your genuine reaction to the interview experience. As is always the case in the Real World, this means there is no right answer to the question. There is no formula, no template. But, we can tell you what the WRONG approach is: to get lots of coaching and prepare the response in September for an interview in November. To have lots of people edit and tweak it. To avoid answering the question but instead jam in six more accomplishments or copy and paste an essay from another school. Please understand that we really do plan to be very generous and kind about typos and grammar. We're not looking for a polished response."
DON'T MISS: BEHIND HARVARD'S BIG ADMISSION CHANGES or DEE LEOPOLD'S HARVARD B-SCHOOL ADMISSION SLIDES
If you liked this article, let John Byrne know by clicking Like.