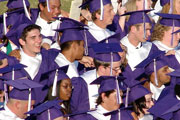 If you're thinking about getting your MBA, here are 101 reasons to consider it:
1. You want to change careers.
2. You're gunning for a promotion.
3. You need (okay, want) a bigger paycheck.
4. You want to start your own business.
5. You want to learn from the best and the brightest.
6. You want to do good.
7. You want to find a job.
8. Your spouse will leave you if you don't find a job
9. Why work 9-5 when you can work 24/7?
10. It's your only chance at ever being called "Master" [of Business Administration].
11. Checking that "graduate degree" box will do wonders for your online dating prospects.
12. You might meet your future spouse — and be able to delete your online dating profile.
13. Which would make your mother happy.
14. It's shorter than medical school — and there's no risk of killing someone.
15. It's shorter than law school — and there are fewer jokes about MBAs than lawyers.
16. It's shorter than a PhD. program — and you don't have to wear Tevas.
17. It's a good excuse for an anemic social life.
18. It might help you find a better social life.
19. You can reframe all your problems and character flaws as "improvement opportunities."
20. You'll learn to juggle. Metaphorically speaking.
21. Grad-school chic is so in this season.
22. Sleep deprivation can be an interesting social experiment.
23. You'll learn exactly how many drinks are too many drinks at professional networking events — the hard way.
24. You'll learn exactly how few drinks are too few drinks at professional networking events — the boring way.
25. But seriously — there will be a lot of chances to network.
26. You'll have lots of new things to talk about at cocktail parties…
27. …of which you'll be invited to many — thanks to all that networking!
28. Core curriculum: statistics, marketing, finance, financial reporting, operational management and organizational behavior, oh my!
29. You could become an astronaut.
30. Or president.
31. Or learn to fire people.
32. Or displace someone on this list.
33. Or be the next Warren Buffett.
34. Just do it.
35. You'll learn How to Win Friends and Influence People — without having to read the book.
36. You can get another chance at being a summer intern, this time without having to make coffee for anyone.
37. Your reading list will grow right before your eyes. (Hello, case studies.)
38. You can finally avenge that sub-par SAT score by rocking the GMAT.
39. If you're too risk-averse, you'll learn to get over it. (In other words, just ask him out already.)
40. If you're not risk-averse enough, you'll get over that too.
41. Turns out there aren't a whole lot of jobs for that B.A. in Slavic Studies.
42. Figure out how to prioritize, all over again. Maybe you can party 'til 4 a.m., finish your reading, and get to class by 9 — or maybe you can't.
43. You can use b-school as an excuse to quit your lame job.
44. You can use b-school to make your lame job less lame.
45. You want to make $100,000 right out of school.
46. You want to spend $100,000 really, really quickly (a few student loans don't scare you!).
47. You'll learn how to be resourceful and creative.
48. Going to be school is a great reason to move to a better climate.
49. Or be be near more colorful foliage.
50. Or live in a more vibrant city.
51. Or experience the foreign land of your choice!
52. B-school is like college, part II (only with more homework, bigger consequences, and worse hangovers, since you're not 21 anymore).
53. You'll learn a new language — it's called "jargon."
54. You can use aforementioned jargon to impress and/or alienate friends, family and acquaintances.
55. You'll become a master of the delicate art of the elevator pitch.
56. You'll get another diploma to hang on the wall!
57. You can learn when the newspaper is lying to you. Thank you, Statistics 101.
58. You don't really know how to collaborate until you've worked with a team of Type A business school students.
59. "Boredom" will no longer be a part of your vocabulary.
60. You'll discover a newfound appreciation for caffeine.
61. You'll gain confidence in your abilities.
62. Think of how fancy your 20-year reunions will be. Fat cats of the world unite!
63. Think of how fancy you will be. (Fingers crossed!)
64. M.B.A. will look great on your resume.
65. Maybe the economy will have rebounded by the time you get out.
66. B-school campuses are so picturesque!
67. You'll learn how teams work best together.
68. You'll boost your leadership skills.
69. You'll become over-qualified for all those jobs you didn't want to do anyway. Goodbye, deep-fryer. Goodbye forever.
70. It will keep your mind sharp — without having to do Sudoku.
71. You'll feel special when people use adjectives like "driven" and "goal-oriented" to describe you.
72. You can (hopefully) learn how to balance your personal and professional lives.
73. You'll ensure your girlfriend's or boyfriend's parents think of you as "marriage material."
74. Former classmates will be impressed at your high school reunion.
75. It will give your parents something to brag about.
76. Someday, you can walk around with a Bluetooth in your ear, babbling to yourself — and no one will think you're a crazy person.
77. Lost? An MBA program might help you find your passion.
78. You'll learn a ton from your professors.
79. And a ton from your classmates.
80. And a ton about yourself.
81. You'll get an amazing challenge.
82. You'll find all kinds fun things to do while you're procrastinating during finals.
83. You'll meet people from all over the world.
84. You'll learn how to recover from failure.
85. You can help change the world.
86. You can take a two-year break from the world.
87. You'll eat plenty of free food (hello, recruiting parties).
88. And learn industry-specific best practices.
89. One (hyphenated) word: value-add.
90. You'll gain a deep appreciation for sleep.
91. You'll get better job security upon graduation.
92. You'll have an excuse to buy super-stylish business apparel.
93. "Labor is a pleasure in itself." — Marcus Manilius
94. You'll increase your earning potential.
95. You'll learn how to leverage… everything.
96. Student discounts!
97. A little competition will make you feel alive.
98. A lot of competition will take you even further.
99. It's one more opportunity to wear that funny hat!
100. What doesn't kill you only makes you stronger.
101. No seriously, it'll be awesome.
So many reasons to get that MBA! Did we miss any? Let us know in the comments!
If you liked this article, let Knewton know by clicking Like.