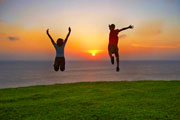 We're only 3 days away from the deadline for this year's Beat The GMAT Scholarship Competition!
If you haven't already, we highly encourage you to apply for this scholarship, because it can be the first step to getting into the school of your dreams.
Every year, Beat The GMAT hosts an annual scholarship competition where we ask our members to introduce themselves and tell us why they want to go to business school. This is the seventh year we're holding this competition and since 2006, we've distributed over $193,000 in prizes to support you on your way to getting an MBA.
This time around, we're giving away six scholarship packages worth over $11,000. Each of the six winners gets a complete GMAT course, admissions consulting services and a $250 GMAT voucher to pay for the test, which pretty much means you're all set come admissions season in the fall. And really, all you have to do is apply before April 23.
The Beat The GMAT Scholarship is one of the ways we want to give back to our awesome community. It's out way for saying "thank you" to all our members who contribute to making Beat The GMAT great!
We also want to thank the following companies, who made generous donations to make these prizes possible: Admit Advantage, Clear Admit, Kaplan, Knewton, Manhattan GMAT, Master GMAT, MBA Admit, mbaMission, Precision Essay, The Princeton Review and Veritas Prep.
Check out the competition's official page by clicking here or ask your questions in the 2012 Scholarship forum!
If you liked this article, let Eric Bahn know by clicking Like.