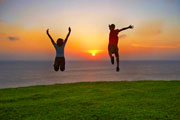 Sometimes you just need a small nudge to achieve your dreams. That's what we hope to be with this year's Beat The GMAT Scholarship Competition! We'll give you the tools that will set you on the path to business school success. This year, we're giving away six scholarship packages worth over $11,000. And really, all you have to do is apply.
This is the seventh year we're holding this competition and since 2006, we've distributed over $193,000 in prizes to support you on your way to getting an MBA.
This is our favorite time of the year because we get to read YOUR story! Beat The GMAT is awesome because of its members, so giving back to the community is an important part of our mission. We believe that our annual scholarship is an important initiative to help talented individuals achieve their dreams of going to an amazing business school.
For the 2012 competition, Beat The GMAT will distribute six scholarship packages that each include a $250 voucher for GMAT registration fees, a full GMAT test prep course and an MBA admissions consulting service. The following companies made generous donations to make these prizes possible: Admit Advantage, Clear Admit, Kaplan, Knewton, Manhattan GMAT, Master GMAT, MBA Admit, mbaMission, Precision Essay, The Princeton Review and Veritas Prep.
Check out the competition's official page by clicking here or ask your questions in the 2012 Scholarship forum!
If you liked this article, let Eric Bahn know by clicking Like.