Yiorgos Allayannis, a finance professor at Darden, is one of many superstar teachers at a school known for superstar teaching
When Evan Smith was choosing which business school to attend for his MBA, his decision was largely based on the quality of the teaching. He had been a Teach for America instructor at a New Orleans High School and an administrator for the Washington, D.C., school district. "I knew I was going to be incredibly picky about the quality of the teaching," he says, explaining why he chose the University of Virginia's Darden School of Business.
Smith hasn't been disappointed. The second-year student, who earned his undergraduate degree in history and urban studies at the University of Pennsylvania, says: "The professors here take the craft of teaching very, very seriously. I would be shocked if there was any other business school that put as much focus on teaching."
Of the 22 professors he has so far experienced, Smith would place 18 of them in "tier one," the equivalent of getting an A grade, three in "tier two," and only one in "tier three."
Based on survey data over 24 years, no school is better at teaching MBAs than Darden

But don't take Smith's word for it. A new analysis by Poets&Quants of student satisfaction data gathered over a 24-year period shows that no business school in the world has consistently put exceptional teachers before MBA students than the Darden School.
Every other year, since 1988, BusinessWeek has surveyed the graduating MBAs at the nation's top business schools. The satisfaction surveys ask graduates to rate the quality of teaching on several dimensions: the ability of a professor to clearly and compellingly teach his or her subject as well as the accessibility of the faculty to students, among others. Then, the magazine uses those scores to hand out its own grades, giving an A or an A+ to the schools in the top 20th percentile with the highest scores.
Only one school of all those surveyed over that 24-year span has scored in the top 20th percentile of teaching grades from graduating MBAs: the Darden School. It is an extraordinary feat achieved through the ups and downs of economic cycles, ever rising expectations, and changing student attitudes.
Our study on exceptional teaching is based on BusinessWeek's satisfaction surveys of 83,099 graduates since 1988
All told, some 83,099 graduates have responded to the surveys since 1988. While the magazine's rankings in any given year can be subject to some unexplainable changes and potential gaming by graduates eager to rank their alma maters highly, the accumulative findings are both powerful and highly credible.
Schools that have met this test multiple times are a rare and special breed. At the vast majority of business schools, scholarly research is typically given far more weight in recruitment and promotion decisions than teaching ability. As a result, the quality of teaching at many business schools is often inconsistent. Many MBA students often are surprised to find themselves stuck with mediocre teachers at some of the most elite and prestigious schools.
The slick marketing brochures and websites often tout the teaching quality of their professors. More often than not, however, few schools deliver on the promise of their promotional rhetoric. So schools that have consistently been in the top 20% percentile in teaching quality–as judged by the graduates who sat in a school's classrooms for two years–are a world apart.
'The social good at Darden is teaching,' says Senior Associate Dean James Freeland

At the University of Virginia's business school,superior teaching has long been a core part of the school's culture. "The biggest difference is that the social good at Darden is teaching," says James R. Freeland, Senior Associate Dean for faculty and research. "When you walk down the halls and see the faculty talking, there's a good chance they're talking about teaching. At most other schools, the social good is about research. So if you walk down the halls there, you'll see faculty talking about their research. Teaching here is a public good. We care about it deeply."
After Darden, two schools come next, tied for winning A or A+ grades for teaching in ten of the 12 BusinessWeek customer satisfaction surveys: Dartmouth College's Tuck School of Business and Cornell University's Johnson School of Business. The University of North Carolina's Kenan-Flagler Business School came in fourth, winning the top teaching accolade eight out of 12 times.
Interestingly, all four schools share a number of attributes in common that explains a lot about why they're at the top. All four boast relatively smaller MBA enrollments than the MBA factories that run larger classes. The size of their faculties are significantly smaller so peer recognition on teaching tends to be greater.
The schools whose faculty consistently score at the top tend to be in smaller towns

They are located in smaller towns–Charlottesville, Va., Hanover, N.H., Ithaca, N.Y., and Chapel Hill, N.C.–away from a major city's distractions. So the professors at these schools tend to be more accountable for their classroom time and more accessible to students because of the schools' cultures and locations. And finally, they are all general management schools where the predominant teaching approach is via case study, a style of teaching that demands heavy interaction and engagement with students.
The largest schools to break through the 20th percentile barrier are the University of Chicago's Booth School of Business, which has landed in the top 20th percentile in teaching six out of 12 times, and Harvard Business School, which has done it five out of 12 times. Both schools are especially known for the outstanding quality of their professors, though Chicago is something of a surprise due to its long standing emphasis on scholarly research.
How hard is it to receive grades from graduates that would put a school's faculty in the top 20th percentile? Let's put it this way: In 24 years, Wharton has never received that recognition in the BusinessWeek surveys. Columbia Business School, the University of Michigan's Ross School and UCLA's Anderson School have achieved that honor only once in 24 years. Duke University's Fuqua School claimed this distinction just twice.
There's good teaching at all the top-ranked schools. What we are singling out is great teaching.

This doesn't mean the teaching is mediocre in these top-ranked schools. What it does mean is that teaching is not a differentiating attribute of the school's culture. Each of these top schools has many exceptional teachers, but no student should go to Wharton, Columbia, Duke or Michigan and not expect to find a few duds in the classroom. What the student satisfaction surveys by BusinessWeek shows is that the quality of teaching in those instiutions is consistently inconsistent.
At Darden, Dartmouth, Cornell and UNC, however, there are few teaching failures. Those academic cultures put tremendous peer pressure on professors to perform exceptionally well in class. The schools hire, promote and tenure on the basis of teaching. They believe that teaching is as important as research. Senior professors routinely mentor their younger counterparts on the best ways to engage a class. Student evaluations of teachers are taken seriously and used by professors to improve their classroom performance. Rewards for outstanding teaching are given prominence and importance in the school's culture.
The upshot: you're far more likely to find truly passionate and extraordinary teaching in those classrooms. As Yiorgos Allayannis, a Darden finance professor and one of the school's many teaching superstars, explains, "I love teaching. It's fun. It's beautiful. There there is a certain joy in seeing people grow and learn. And teaching is at the core of this institution."
Where exceptional MBA teaching is the norm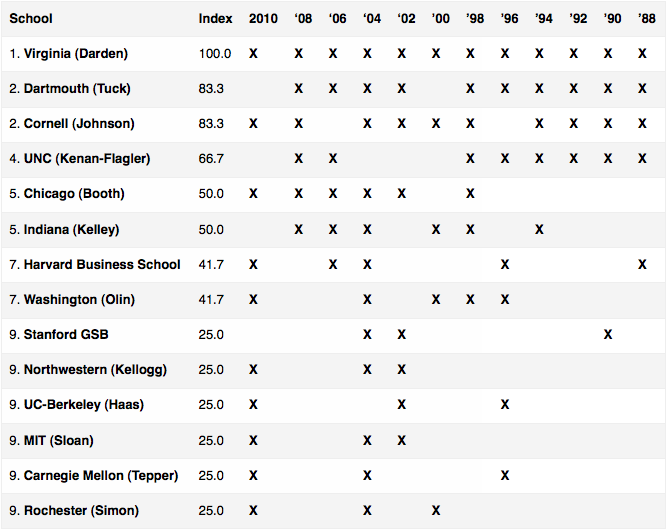 Source: BusinessWeek surveys of MBA graduates from 1988 to 2010. An X indicates that the school scored within the top 20th percentile of all business schools whose graduates were surveyed by BusinessWeek.
DON'T MISS: WORLD'S BEST MBA CAREER MANAGEMENT CENTERS or RANKING SCHOOLS BY FACULTY RESEARCH: DOES THE WORLD NEED ANOTHER B-SCHOOL RANKING?
If you liked this article, let John Byrne know by clicking Like.