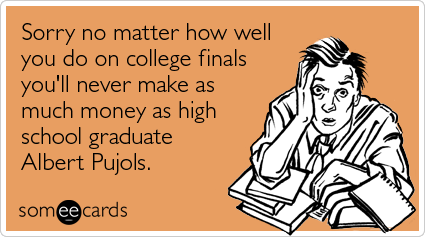 It's official…I've survived my first term of business school! Finals ended last week and I'm currently on winter break. When the last exam was over, I met several of my classmates around town at informal parties to drink, bond, and celebrate the highs and lows (I'm looking at you, accounting and DECS finals!) of our first term at Kellogg. It's amazing to think that this time last year, I was obsessing over my application and wondering if any school would accept me. What a difference a year makes!
Now that I have all this free time, I have to say that I don't know what to do with myself! Catching up on sleep has been my top priority, followed closely by making my apartment livable again and hitting the gym. There's also a lot to be done for the upcoming recruiting season. Drafting cover letters, contacting alumni, and scheduling coffee chats will take up a large portion of my daily life for the next few days. Researching my target companies reminds me of my life as an MBA applicant, when I spent most of my evenings researching schools. One of my main motivators for applying to business school was the opportunity to take two years to really explore my career options and try new things in a supportive environment. Kellogg has a very impressive career research library (online and physical) that I plan to take FULL advantage of over the next three weeks and into next term.
Another resource I plan to use over break is the peer feedback tool offered by the Business Leadership Club. It's a survey that I can send to my various groups to solicit feedback on my performance. As I stated above in relation to my career, this time in school is a chance to work on and improve my abilities in leadership and teamwork. If I graduate in two years and have not improved significantly in these areas, I will consider it a great opportunity lost. Managers and co-workers in the "real world" won't be as forgiving as my classmates, and candid advice will be hard to come by or difficult to decipher in some work environments.
But enough with the serious talk! Winter break is also time for fun and relaxation! While my classmates are off on ski trip or various treks I'm going to spend time with family and friends, watching junk TV (just in time for Teen Mom 2!), holiday classics (Home Alone & Christmas Vacation, anyone?), and baking Christmas cookies/goodies.
It's also been a while since I've read a book for pure enjoyment. One of my classmates was kind enough to lend me her copy of the Hunger Games (don't judge, lol!). I waited until after finals to start reading because I've heard these books were good.
That's all for now folks! I'll be back with an update on bidding for Winter classes, and a very special announcement on my GIM trip!
If you liked this article, let Night Owl know by clicking Like.