Industries That Attract The Most MBAs
Which top business school sends the highest percentage of its MBA grads into consulting? The answer to this and many other questions will surprise you. An analysis by Poets&Quants of what industries grabbed the most members of the elite Class of 2011 from leading U.S. schools often reveals hidden strengths and weaknesses of each institution.
As for the first question, the answer is Northwestern University's Kellogg School of Management. Some 35% of its Class of 2011 headed into the consulting business, more than any other top B-school, including Dartmouth College's Tuck School (33%) and the University of Pennsylvania's Wharton School (30%).
Which school sent the most grads into financial services and banking? Not Wharton. Columbia Business School, were 51% of this year's graduating class went into finance, followed by New York University's Stern School (46%), and the University of Chicago's Booth School of Business (41%).
The study–of 2011 employment reports from the top business schools–is chock full of interesting data. Did you know, for example, that the school sending the highest percentage of its MBAs into media and entertainment is UCLA's Anderson School, where 11% of this year's graduates took jobs in those two fields?
Or that the school with the highest percentage of MBAs in energy is the University of Texas at Austin? Some 11% of its Class of 2011 are employed in the energy field. It makes sense given the location of both UCLA in Los Angeles and Texas in Austin and shows the important role geography plays in where MBAs go.
Within many of these industry categories, moreover, there are many different types of jobs from marketing to finance and general management to manufacturing. In finance alone, there are some significant differences, too. Harvard Business School, for example sent 14% of its Class of 2011 into private equity and leveraged buyouts. Chicago Booth, on the other hand, sent less than 4% of its MBAs into those fields. Some 7% of Harvard's MBAs went into hedge funds this year, versus less than 1% at Chicago.
You might think that Stanford's Graduate School of Business would have the tech business locked up. Not so. As a percentage of its Class of 2011, Berkeley's Haas School sends more than twice as many grads into the technology industry–32% versus 13%–than Stanford.
And while it may be no surprise that Yale's School of Management sends the highest percentage of its MBAs into non-profit and public sector jobs–some 10%–it will surprise many to know as the No. 2 school in this arena is MIT Sloan. Some 8% of MIT's Class of 2011 went into non-profit and government jobs.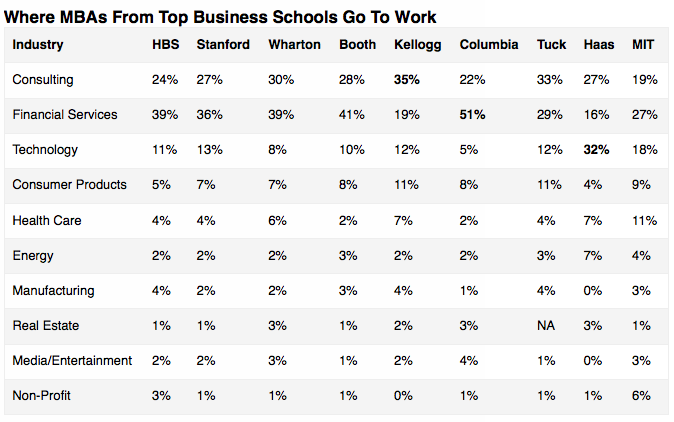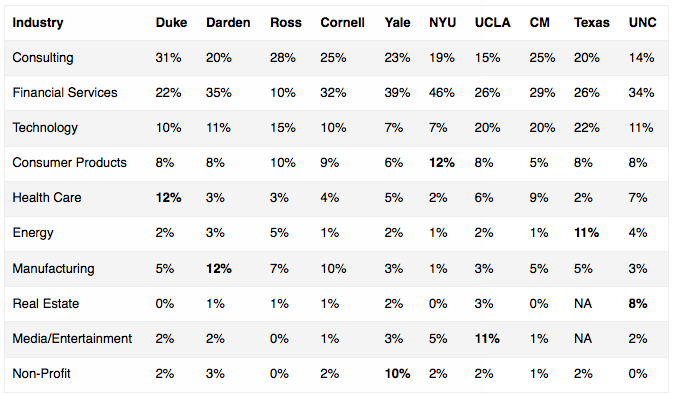 Source: Business schools reporting to Bloomberg BusinessWeek. Non-profit includes public service jobs in the government. Health care includes jobs with pharma and biotech companies. Bold numbers indicate the highest percentage of grads among the schools in the study.
DON'T MISS: THE AMAZINGLY LONG LIST OF COMPANIES THAT RECRUIT HARVARD MBAS
If you liked this article, let John Byrne know by clicking Like.