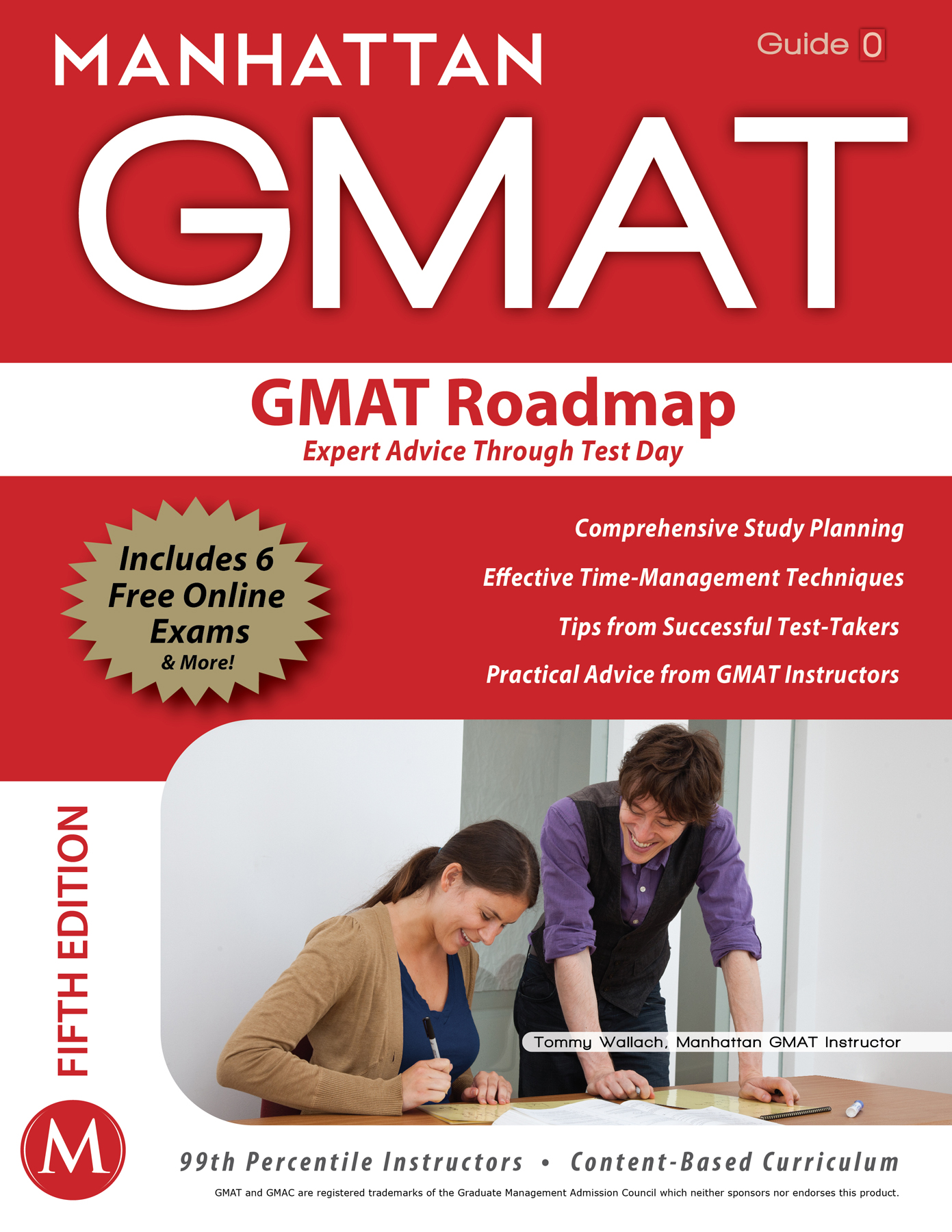 The following book review was written by Dana Jinaru. Dana has just finished her finance masters degree in Europe and also serves as a moderator for Beat The GMAT. Dana scored a 770 on the GMAT.
Here is Dana's analysis of The GMAT Roadmap book.
Overview
I've been recently given access to ManhattanGMAT's newest guide, The GMAT Roadmap. I was intrigued by this book, since ManhattanGMAT has a history of releasing high quality guides, with tons of good advice for test takers. However, their well-known guides already cover what you need to know for the GMAT, so why get The GMAT Roadmap? This book conforms to the high standards we're used to, but it's important to note from the beginning that I believe this book has a very specific audience.
The book itself is a collection of excellent strategy articles, grouped by topic. There are chapters on quant and verbal, for instance, or a chapter on stress management, but the overarching theme is that The GMAT Roadmap is meant to help you structure your study and get the most of the resources/time at your disposal. You won't find any practice problems in this book, nor will you find a theoretical review of concepts you might see on the GMAT. If that's what you're looking for, then try ManhattanGMAT's set of 8 guides – these are some good books packed with practice and theory. This is why I strongly feel this is a book to be used mostly by people thinking about retaking the GMAT and looking for a new strategic approach to study. The time commitment required to finish these 8 guides plus the Official Guides (which ManhattanGMAT rightfully recommends for practice) is quite substantial, as I've written before, and we need to be realistic about the amount of time your regular test taker can devote to just one aspect of the MBA application. I would prioritize practice and theory over the pure strategy in this book.
Pros
A collection of excellent articles on varied topics relating to strategy on the GMAT. I can see users who are struggling with timing or stress management benefit immensely from the articles in this book.
Comes with access to ManahattanGMAT's 6 practice tests, widely considered to be among the best in the industry.
I really liked the Student Sound-Off sections, which contain advice from regular GMAT test takers and their favorite strategies. It really gives you a boost to read success stories as well!
Cons
If I had to choose between reading The GMAT Roadmap and going through ManhattanGMAT's Word Translations guide, I would definitely choose the latter, even if I was already scoring very well in quant. The articles in this book are definitely great, but I can't help but feel that test takers should prioritize other things.
The structure of this book is puzzling at times. For instance, why include an article about Reading Comprehension in the "How to Learn Content" chapter instead of the chapter dedicated to verbal?
I was expecting to see a more detailed study guide (maybe by problems/chapters of their regular guides?), which I think would have helped many test takers tremendously.
Bottom Line
The GMAT Roadmap features some great content and is definitely worth checking out if you're struggling with strategy and particularly if you're retaking the test. I'm giving this book 4 stars out of 5 because I'm just not convinced that your average test taker would be better off working on his or her strategy rather than reviewing concepts and doing some high quality practice.
Special Announcement: The first two chapters of The GMAT Roadmap are available for free! Click here to access your copy.
If you liked this article, let Dana Jinaru know by clicking Like.