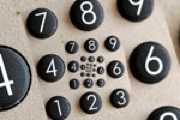 Today we're going to tackle a couple of tough exponent problems from GMATPrep®. The two problems I've chosen share some interesting characteristics.
Here's your first one; set your timer for 2 minutes and go!
What is the greatest prime factor of
-
?
(A) 2
(B) 3
(C) 5
(D) 7
(E) 11
What was your first thought here? Mine was: get those bases into the same form.
-
And then my next thought was: give me a calculator.
Okay, clearly they're not going to do that, so there's got to be some other way around this. How can I simplify those two terms even further?
The solution to my problem is not
. If you're not sure (and you can't look up the rule because you're in a testing situation), try a pair of small numbers to see. What's
–
? Is it 
= 3? No. It's 27 – 9 = 18. Okay, so now what?
Oh, right, we subtract the exponents when we're given a division problem, but this is a subtraction problem. How do we solve this one? We factor: we pull a common term out of each.
In this case, our common term is
:
=
= 
=
Hmm. The
term is made up entirely of 2s, so the largest prime number out of that piece is simply 2. What about the 63? 63 = 9 × 7 = 3 × 3 × 7. Great! The largest prime number is 7.
The answer is D.
The biggest trap answer, in my opinion, is 2 (answer A). It would be easy to look at the original problem and think, well, 2 is the only prime factor of
and 2 is also the only factor of
, so 2 has to be the biggest prime factor of both. The key is that the act of subtracting can change everything.
That process in general – of factoring out a large term when we're adding or subtracting ridiculously-high-exponent terms – is one we need to remember. When you see this kind of set up (base-with-huge exponent plus-or-minus base-with-huge-exponent), factor out the smaller of the two terms. You're going to end up with whatever's left out of the larger term (in this case, that was 26) minus the number 1, so you know you're going to get some new number out of this with different factors.
Ready for the next one? You know the drill (2 minutes!).
If = , what is the value of x?

(A) 9
(B) 11
(C) 13
(D) 15
(E) 17
My first thought: hmm, how do I combine that stuff on the left-hand side of the equation? My second thought: yuck. Can't I do it any other way? Then I noticed the three on the right-hand side. The left-hand side has only base-2s. Where could that 3 come from?
That one thought let me to a really nice shortcut on this one – but the shortcut requires you to have mastered exponents already. I will show it to you, but not until after we slog through this the longer way. The thing I want you to notice right now, though, is what led me to notice that 3 – it was because I didn't simply start down the first path I noticed but asked myself whether there was an easier way because that first path was kind of annoying. I'm not a fan of annoying solution methods; nobody is! So make that work for you – when you notice something annoying, ask yourself whether there's a way to cut out the annoying part.
Okay, so let's go down the somewhat more annoying path.
Hmm. Somehow, I've got to combine the two terms on the left-hand side of the equation. There's a subtraction sign between them, as in the last problem, but I don't really know how to factor out when the exponents are variables like that. (It can actually be done, but most people wouldn't know how, so I'm going to pretend that I can't, either.) What else?
Well, let's try to split the variables out from the numbers as much as possible.
can be written
–
Okay, so my full equation now reads:
-
=
Hmm. Fractions are annoying in equations, so I suppose I could multiply everything by
, or 4:
=
So I have 4 "two to the x" terms minus 1 "two to the x" term… that's 3 "two to the x" terms:
=
This is starting to look a little bit better. Divide by 3:
=
So close! Now what? I can just set the bases equal to each other now, right? So x must equal 13.
Wait, wait! Not so fast. 4 is the same thing as
; it should be part of that
. I can't just use some of the 2s but not all of them.
=
So now my full equation is:
=
Voilà.  Drop the bases, set the exponents equal to each other, and we get x = 15.
The correct answer is D.
Ultimately, that math wasn't terrible, but there were multiple steps where I wasn't exactly sure where things were going – I was just trying to manipulate and see whether that then gave me any ideas. That's kind of unsettling. Whenever possible, I'd rather be doing something that I know is working every step of the way.
So let's go back to my earlier thought: what's that 3 doing there? Where did it come from? Any ideas?
Does it remind you of anything else you've seen recently?
Hint, hint.
That whole right-hand side structure,
, reminded me of a similar-looking term in the previous problem:
. Sure, I wrote that a little bit differently last time, but the same two components are there: a base with a ridiculously high exponent multiplied by another plain number.
Where did that weird 63 come from last time? Oh, right, the minus-1 thing. We had 64 – 1 = 63 (which started out as
– 1). So, in this one, did that 3 come from 4 – 1 = 3? And, if so, that 4 would have started out in the form of
, probably, something like this:
4 = (
– 1)
Put that in our original problem instead of the 3:
=
Do you like the problem better in this form or in the original form? I think this is much more straightforward; we just need to multiply out on the right-hand side:
  =
And bingo! We can just compare the two halves of the equation. Our unknown x equals 15 (and the correct answer is still D). Now, you wouldn't want to figure all of that out from scratch during the test – the first method is easier than actually figuring this out. But if you already knew everything that we just discussed in the first problem, including the fact that subtracting exponential terms in this way is going to result in a "something minus 1" situation, then you might be able to do what I did when I got to the second problem: look at that 3, realize it must have come from 4 – 1, which is
– 1, and then the problem just opens right up.
Key Takeaways for "Really Big Exponent" Problems:
(1) If there are ridiculous exponents, there's a pattern somewhere. While studying, learn what the common patterns are and how to recognize them on different problems in future. That second step is critical – you don't want to have to figure this stuff out all over again in a timed situation.
(2) Here's one pattern to add to your list. When you see a base with a really big exponent and some coefficient (fancy word for number) out front, such as
, recognize that the weird number probably came from factoring, and that factoring will have been in the form of "something minus 1."
(3) Sometimes, looking at the problem "backwards" is the more efficient way to do the problem. The vast majority of students would do what I also first thought to do: try to manipulate the left-hand side of the equation in the 2nd problem. Only a few will think to go "the other way" and start with the right-hand side. Look for those opportunities during your study.
* GMATPrep® questions courtesy of the Graduate Management Admissions Council. Usage of this question does not imply endorsement by GMAC.
If you liked this article, let Stacey Koprince know by clicking Like.