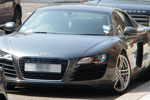 Knowing how to use the distance = rate x time formula in various permutations will help you tremendously on the classic GMAT speed word problems.  Just remember that when asked about average rate over an entire journey, you must think about total distance and total time over that journey…
Problem:
A car drove from Town A to Town B without stopping.  The car traveled the first 40 miles of its journey at an average speed of 25 miles per hour.  What was the car's average speed, in miles per hour, for the remaining 120 miles if the car's average speed for the entire trip was 40 miles per hour?

(A) 28
(B) 48
(C) 50
(D) 55
(E) 70
Solution:
To solve this problem, you must remember that average speed means total distance divided by total time over an entire journey. This should not be confused with the average of the speeds.  The total distance in this problem is 160 miles, but we will need to express the total time in a more complex way.
For the first 40 miles, the car traveled at 25 miles per hour.  Therefore, we can say that the time this took was 40/25, because distance divided by rate equals time.
For the last 120 miles, we are trying to solve for the rate, so we can call this speed R.  Thus, the time for the final 120 miles is 120/R.
If we put all of this together, knowing that the average speed over the entire journey is 40 miles per hour, we get the equation
.  We can now solve for R and reach our answer.
50 is choice (C) and that's our correct answer.
If you liked this article, let Kaplan GMAT know by clicking Like.