Last week held the last of the graduations for the 2011 academic year. Speeches were given, jokes made, advice doled out. We would be remiss not to include a link to:
Stephen Colbert's speech to the Northwestern graduates where he called Kellogg students "pimps." (In the literal sense.)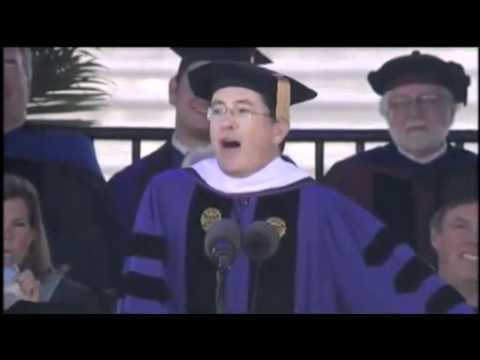 And Conan O'Brien's much-heralded speech to the Dartmouth Grads. Heraldry deserved. [MBAsocial Tweetdeck]
We'd also love to lift up the wise Chris Dixon's recent post about graduates who spend time "climbing the wrong hill" (and why not to do it). [Chris Dixon's blog]
We loved the at-a-glance tips on business cards:
INFOGRAPHIC: Dissecting the successful business card [Business Cards Online]
And from our friends at HerCampus, the very MBA-applicable:
Things We All Do On Facebook That No One Wants to Admit Tp. [HerCampus]
Finally, we were fascinated by:
Beer Cups Filled From the Bottom,
And this video of the week, which we'd like to call, "ways not to behave if you have a very good education."
"I'm not a crazy person, I'm a very well-educated person."
*     *     *
You might also like from MBAsocial:
If you liked this article, let MBAsocial know by clicking Like.