Welcome to the fourth installment of videos devoted to Double Matrix questions.
For those who missed the first article in this series, a Double Matrix question (also known as an Overlapping Sets question) is one that involves a certain population where each member of that population has two characteristics associated with it.  Questions that fall into this category can often be solved using the Double Matrix Method.
For an introductory lesson on the Double Matrix Method, please watch the video at http://www.youtube.com/watch?v=OWD2t5jCCZQ
Afterwards, you can try solving this mid-range problem-solving question:
In a group of 100 cars, 47 cars do not have air conditioning.  If at least 51 cars have racing stripes, what is the greatest number of cars that could have air conditioning but not racing stripes?

A) 45

B) 47

C) 49

D) 51

E) 53
Once you've attempted the question, you can watch the video solution below: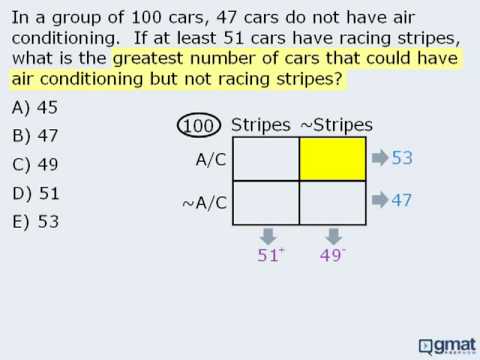 Cheers and good luck in your studies,
Brent
If you liked this article, let Brent Hanneson know by clicking Like.