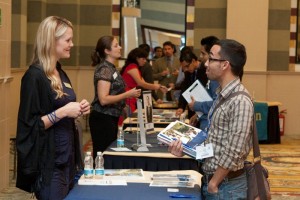 By Master GMAT and The MBA Tour
"We've seen a dramatic shift in the way people communicate with one another. Interaction is increasingly channeled through social media – Linked In, Facebook, Twitter, and others", says Mae Jennifer Shores (UCLA, Anderson). "Yet when it comes to the critical decision as to who to admit to our MBA programs, we still largely rely on face-to-face interaction wherever possible. There is no substitute for the live, real-time exchange of ideas and energy that occur when people meet in person".
This is probably why Admissions Directors travel thousands of miles to take part in MBA events around the world where they meet with interested students considering business studies.
As Randall Sawyer from Cornell notes, "We enjoy meeting potential future students in person and those who make a great first impression will definitely stay in our minds. The Internet may be a great tool for information, but you still can't shake someone's hand through a computer screen."
Universities and MBA events operators both recognize the power of social networking to reach out to potential students. "We get the word out in the arenas where our target audience interacts – and that's online, but the strength of our organization is in the personal, the actual rather than the virtual," confirms Peter von Loesecke, CEO, The MBA Tour. "We value online tools as a place to first reach out to students and learn about their needs.  For instance we use our Facebook group with 10,000 fans as a platform for pre-MBAs and alumni to interact, network and get their questions answered. Admission reps are part of our group as well. It's a valuable resource through which they can communicate with students from around the world. But it can't – and doesn't – eliminate the benefit of human interaction between school and student."
The face to face interaction between applicants and Admission Directors is one that still counts. Students have the chance to not only have their queries answered but also make a lasting impression and one that will come to mind when their application letters are being read by the same key decision makers later on.
The MBA Tour in collaboration with Master GMAT will hold three MBA events in India this month: Mumbai (February 5th), Delhi (February 7th), and Bangalore (February 10th).  You are invited to register here.
If you liked this article, let Economist GMAT know by clicking Like.