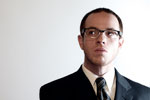 Business schools want to know who you are when they consider your application. Résumés and transcripts and GMAT scores give useful information, but admissions officers also want to hear real people talking about you. One of those real people talking about you, of course, will be yourself in your application essays. The others will be those people you have asked to write recommendations for you. Recommendations are an important part of the process because the opinion of someone who knows you and your work has a unique value that nothing else in the application supplies. It is vital, therefore, to make sure that your recommendations are as strong as possible. Let's see how we can do that.
Selecting
The first thing is to select the right person. When you do this, it is crucial that you avoid the Number 1 mistake made by business school applicants when choosing a recommender: Caring more about the name and title on the letterhead than about the content of the recommendation. Many people are tempted to find the most "impressive" person who will agree to write for them. They reason that if they can get an Executive Director to write a recommendation, then that must be better than getting a mere Director. Or if their uncle knows Jack Welch (former CEO of General Electric), then surely the recommendation coup of the century would be if Jack Welch agreed to write for you as a favor to your uncle. But Jack Welch doesn't know you, and all his fondness for your uncle and his good intentions won't produce a good recommendation. Business schools don't care nearly as much about who is writing the recommendation as they care about what it says. They aren't impressed by fancy titles and lofty positions held by recommenders. The application process is about you, not them. (Sometimes, of course, schools will ask for a recommendation from a specific person, usually your direct supervisor. This discussion about choosing the right person is for situations when you have a choice.)
In fact, there are two things you're looking for in a recommender.
Someone who knows you and your work well from direct experience (and who thinks very highly of your work).
Someone who cares enough that he or she will actually put time and effort into writing a good recommendation.
Both of these are key to a good recommendation. A good recommendation is specific and detailed, and shows direct familiarity with you and your work. A good recommendation gives examples of your excellent qualities; it doesn't just claim that you have them. And a good recommendation is enthusiastic and well-written, which will only be true if your recommender cares enough to do the job properly. A good recommendation, like any piece of good writing, takes time and care to produce.
Asking
Remember, asking someone to write a recommendation for you is asking for a favor, so be considerate and polite. Let's look at a hypothetical request. "I'm applying to business school and I need to submit some recommendations. I was hoping that you would be one of my recommenders. Do you have the time, and are you willing to write a strong, enthusiastic recommendation for me?" There are a few important things being established here. The first, and most important, is that we need this recommendation to be strong. A lukewarm recommendation or one that damns with faint praise can be very damaging. There's a saying about this. "There are two kinds of recommendations: great ones and terrible ones.  All the ones that aren't great are terrible." Some people may not feel comfortable turning you down, but you'd rather that they did if they can't write enthusiastically about you. So be clear that you need a strong recommendation, and don't get stuck with someone who, by not wanting to hurt your feelings and say no, may hurt your chances for admission instead.
The second important thing is the mention of time. By asking if your potential recommender has the time, you are establishing both that writing a good recommendation will take some time, and also that it needs to be completed within some timeframe. If your recommender agrees to write for you, it's best to be explicit about this latter part. "I need to have it in a month. Will that be enough time?" Of course, make sure that whatever time you say is earlier than you actually need it. Be courteous to your recommenders and don't ask for a recommendation a week before you need it, but don't let it stretch out indefinitely. Even if you ask early in the application process and don't need the recommendation for 4 months, ask if you can have it in a month. Under normal circumstances that should be enough time.
Helping
There are several things you should do to assist your recommenders. The primary one is to remind them of the work you've done so they can write about it with specifics. Give them a copy of your résumé for reference, and add any responsibilities or accomplishments you want them to be aware of that they may not remember or know about. If you have written any of your application essays, give them copies to read. It's very helpful to a recommender to see how you are presenting yourself in your essays — it makes it easier for them to write something complementary. Together, your essays and recommendations are describing the same person and they should sound that way.
Waiving
Always waive your right to see the recommendation. Schools don't trust the honesty of the recommendation as much when the right is not waived. And you shouldn't have worries anyway, if you chose the right person to write.
Thanking
Always write thank-you notes to your recommenders. Not a thank-you email, a note. A handwritten note. In fact, write two. One when they agree to write for you, and another when they submit the recommendation. Your mother will be impressed by your good manners, and karma will take note.
If you liked this article, let David Ragsdale know by clicking Like.