I'm excited to share another segment of the Beat The GMAT Exit Interview Series; an initiative where I interview Beat The GMAT members who have been successfully admitted to business school.
Yesterday I sat down with Jyothi Nookula to talk about her experiences in applying to and getting admitted into the Indian School of Business (ISB).  In the video below, Jyothi (also known as fibbonnaci in the forums) shares details about how went about researching ISB, preparing for her GMAT, and crafting her essays.  She only applied to one school, ISB, and got admitted!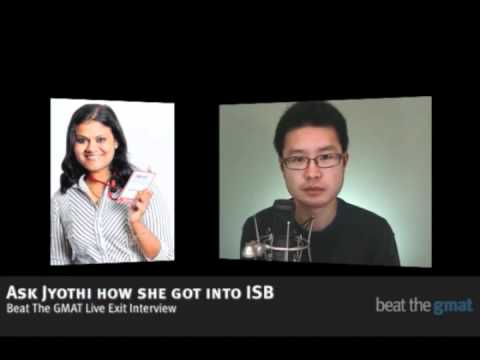 Here are some notes from this Beat The GMAT Exit Interview:
1. Who are you?  Tell us about your background?
Live at Chennai, India
Completed my Engineering in Biotechnology at SRM University, Chennai
I am an entrepreneur at heart. Founded a venture- La Exotica- that deals with customized gifting solutions for corporate and individuals
Moderator at Beat The GMAT and served as Marketing Manager for 5 months
Co founder of F4, a professional networking event in Chennai, Hyderabad, Boston, Dubai
Organizer of TEDx Chennai
2. Why an MBA?
As said, I am an entrepreneur at heart. The failure of my venture made me realize that I lack in certain skills
The F4 venture flourished while my La Exotica venture failed
Realized my strength is creativity and organizing but I fall flat in other key skills such as marketing
An MBA from one of the top schools would help me not only round out my skill set but also meet diverse peers from whom I can learn a lot.
3. Why ISB?
Vibrant entrepreneur ecosystem- specific courses such as Planning an entrepreneurial venture that encourages students to take up entrepreneurship and a large population of students who want to start business
Wadhwani Centre for Entrepreneurship Development (WCED) at ISB supports the fledgling startups and guides them in the right direction.
Indian focused program with international standards and curriculum
4. What is Hyderabad like?
It is a vibrant city with elements of ancient India seamlessly integrating with the Modern India
Was once a City of Nawabs, the king rulers of India
Charminar, a mosque of four minarets and Golconda fort add to the charm of the place.
Hyderabad Biryani is famous all over India
5. Walk us through your GMAT prep strategy.
Did tons of practice questions from every source I could lay my hands on and emphasized on practice tests that mimicked the true test.
I was pretty strong in quant so focused 90% of preparation on verbal
For Sentence Correction, rather than just understanding the topics on superficial level, I delved deep into the grammar roots
For Critical Reasoning, I followed LSAT practice tests and methodology
For Reading comprehension, the best technique that worked for me was to skim through the passage in 2 minutes and develop a map. I got back to the specific paragraph as when the question required.
Will share a couple of resources with this webinar that helped me sail through various sections in verbal
6. How did you go about crafting your essays?
ISB has 3 essays- one that asks you for your unique selling point, long term and short term goal plan and why ISB and the last one was to highlight any other information that a candidate would like the Adcom to know
Each essay was 300 words so I had to present a very tight story that is interesting and differentiating
First, I sat and wrote down all my achievements, listed the events I was part of. Then I "bucketized" them into various categories such as leadership, creativity, team skills, motivation etc
I wanted the total application to present a holistic, unified theme and not just snapshots of a lot of things put together
For my first essay I concentrated on my ability to start a venture and my creative skills
My work experience (2.8 years) is low compared to the average work experience at ISB, so I addressed that in my last essay
I showed my maturity, determination and creativity as the overall theme for my essays
I showed my essays to a lot of friends who knew me well. It is important that your tone and personal style is visible in the essays.
I showed my essays to a couple of ISB alumni and at the end asked them what were the 3 things that they recollected from my essays. This helped me to check the themes I wanted to portray showed up in my essays
7. What was your ISB interview experience like?
I attended my interview at ISB campus, Hyderabad
There were 3 people in my panel. One from Admission Committee and two were school alum
ISB interviews are always chilled out interviews, no stress at all.
Conversational type interviews
You have to write a 50-100 words essay before the interview. It is on the spot and topics are very general. My topic was 'Orange'
The panel gives ample scope for you to drive the interview to highlight your strengths. I utilized it to highlight my strengths
Had a couple of mock interviews with friends and ISB alumni
I Read through my essays a number of times and tried to figure out all possible questions. Wrote down all the questions I could think of about my profile and wrote answers to them in short bullets. This helped me recollect answers better, frame stories that matched different questions etc.
8. What do you plan to do after your MBA?
I would like to start my own design management venture that connects fashion designers to artisans. This is an extension of my venture La Exotica.
9. Any final thoughts or advice for other MBA applicants?
Applying to B schools is a roller coaster ride. Don't despair if things don't turn your way. It is the only process that makes you look inwards and appreciate the qualities you possess. Enjoy the process.
Identify your strengths and accept your weakness. You don't have to be an Olympic winner to have stellar essays.
Don't fret too much about GMAT. It is just a part of your application. We as students give way too much emphasis on it.
Build your profile holistically rather than just concentrating on GMAT
If you are an Indian IT Male, start involving yourself in short, impactful programs. It will help you in crafting some wonderful stories and will differentiate you from others too.
If you liked this article, let Eric Bahn know by clicking Like.