Data Sufficiency the Suge Knight Way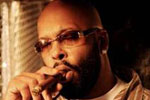 While financiers and tech entrepreneurs tend to capture the fancy of aspiring MBAs, entertainment moguls like Jay Z and Russell Simmons possess enviable business skills and bank accounts, themselves.  As Steve Jobs pioneered the computer-aided animation market with Pixar, so did rap mogul Suge Knight launch a musical revolution with Death Row Records, bringing gangster-funk to the masses and pushing hip-hop to a new level, both artistically and commercially.
While some of Knight's business tactics will never be taught at Wharton – dangling Vanilla Ice from a high-rise balcony is not the correct answer in most case competitions – his management of Death Row in the early 1990s can profoundly improve your success on GMAT Data Sufficiency questions.  Knight built his empire around the most talented member of NWA, Dr. Dre.  Much more a producer than a rapper (but still a legit MC), Dre feuded with fellow NWA member (and Ruthless Records label owner) Eazy E and ultimately fled the group to join Knight at Death Row, where Dre would go on to solo success as a rapper and even more success as the producer and discoverer of Snoop Dogg, Warren G, Eminem, and others.
Then, in 1995, Knight pulled off another coup by bailing out rap icon Tupac Shakur from jail, adding the superstar to Death Row records as part of the transaction.  Tupac's first order of business was to launch the epic double-album (2-disc-pac) All Eyez on Me, which, among other legendary tracks, featured the song U Can't C Me, a slap at Pac's enemies.
If you will, then, you can say that two of Suge Knight's greatest business decisions can be labeled as:
No Eazy Es
And
U Can't C Me
These two strategies, used on Data Sufficiency questions, are realer than Real Deal Holyfield.  How?
The GMAT will try to trap you with easy-to-find answer choices, and on Data Sufficiency the two easiest trap answers to fall for are choices C (both statements together but neither alone) and E (neither statement is sufficient; more information is needed).  This is true because, when you break down the real significance of Data Sufficiency questions, it's to determine how well you can leverage your assets (the statements) and derive maximum return-on-investment.  The best way for the GMAT to test that is to give you information that appears at first to require additional statements to solve the problem, but is actually telling you more than you think.  At first glance, a statement may seem to be insufficient, but through some algebraic manipulation or a closer examination of the parameters, it will reveal to the savvy test-taker that it actually does answer the question.
Consider the question:
Nate Dogg sings hooks for two different prices: $52 for an EP and $58 for an LP.  How many EP hooks did he sing?

(1) Nate sang a total of 9 hooks

(2) Nate earned $492 from singing hooks
Clearly the answer is C, right?  Each of statements 1 and 2 provides one equation, and we have two variables:
x + y = 9
52x + 58y = 492
But C comes a little too easy, and as Tupac also sang in I Get Around, "I don't want it if it's that easy."  Because the GMAT is likely trying to trap you with answer choice C, you need to push yourself to derive more value from one of the statements, as on a test this hard they won't likely reward you so easily.  As statement 2 seems to provide slightly more value than does statement 1, a helpful tip on a question like this is to use the more-robust statement to try to prove the other; in this case, does statement 2 guarantee that Nate sang 9 hooks?
Let's see if it's even possible for him to sing anything more than or less than 9.  If he were to sing 8, to keep his profit at $492 while selling fewer items, he'd want to focus on more expensive items.  And even the most expensive, $58, won't net him enough for a total of 8: 8 x 58 = $464, which is not enough.  Trying the same thing for 10, we find that even 10 of the least expensive items, $52, is too much: 10 x $52 = $520, and that's too much.  So, therefore, statement 2 guarantees statement 1 without our needing to be told so explicitly.  Therefore, statement 2 is sufficient alone, and the correct answer is B.
What's most important here is the takeaway – when either answer C or E comes to you too quickly, it's almost certainly not correct.  The GMAT will reward you for deriving more value from the statements than first meets the eye, and therefore your goal when you encounter an "Eazy E" or an easy C is to try to find the next answer up – use the information that you have to use just one statement alone (if you think C) or to find a way to solve the problem with both (if you initially think E).
No Eazy Es and U Can't C Me – words to live by, whether you're an aspiring rap mogul or an MBA candidate, whether you're talking G-Funk or G-MAT.  Ultimately it comes down to getting the most out of your assets, and regardless of the industry that's just good business, allowing you to keep your mind on your money and your money on your mind.
If you liked this article, let Brian Galvin know by clicking Like.