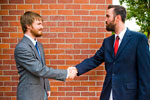 Today is the first National Entrepreneur Day, as spearheaded by Grasshopper Group and declared by President Obama. In honor of the day we'll take a look at the classic question, "Should entrepreneurs get an MBA?"
These days, programs to support entrepreneurship at MBA programs are on the rise.  Here are two perspectives:
Here's an interesting contrary perspective from earlier this year, courtesy of Steve Blank at VentureBeat. He argues that once you succeed as an entrepreneur, you're likely to need MBA-type skills more and more.
We have limitless experience counseling people who want guidance on whether to get an MBA. For most people, reframing the question helps. Many people ask, "Do I need an MBA? Can I get where I need to go without one?"
One way to reframe the question is to ask, If you get an MBA, will you be glad you did? It's a very different question, and the answer to it is much simpler: MBAs are remarkably satisfied with the degree. The data given by GMAC in their Alumni Perspectives Survey hints at MBA satisfaction. Your own anecdotal research is likely to uncover an overwhelming support of the degree by graduates. (And if you're tempted to chalk this result up to consistency bias, I'd suggest you compare their responses with those who've been to law school and med school.)
Hopefully you'll find this different "mental model" useful. It's also refreshing to focus on what you want to do, rather than on what you need to do. As for mental models and reframing decisions – they, like most business subjects, are covered both in books and at business school. The choice is yours.
If you liked this article, let Kaplan GMAT know by clicking Like.