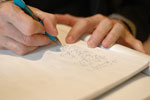 Applying to business school takes a lot of effort. Sometimes you wish you could have a month or two off from your job just to focus on your b-school applications as a full-time project. Writing good applications takes time, and the most time-consuming part of the application for most people is the essay section. Often you have to write multiple essays for each school, and writing essays is a lot of work. This work is well worth it though, because the quality of your essays can have a major impact on the likelihood of being admitted to your top schools. Your résumé, work experience, and recommendations all give the admissions staff a sense of who you are, but nothing does so as much as the essays you write in your own voice. Your goal is to write essays that make your reader think, "This sounds like someone I'd really like to have at our school."
So what should you write about? Your essay needs to be about something, and figuring out what to say in the first place is frequently the hardest part of the process. This brings us to the worst question to ask yourself when planning an application essay.
"What do they want to hear?"
This is the worst thing you can ask yourself because the more you write what you think they want to hear, the worse your essay will be. Why? First, it will make your essay sound like everyone else's. One of the keys to successful application essay writing is to distinguish yourself. You need to stand out. It's hard to do that when you're trying to write what you think the admissions committee wants to hear. Other people have the same idea and will come up with similar things.
A second problem is that it's hard to write with any enthusiasm and enjoyment when you're writing what you think other people want to hear. Writing that is motivated solely by obligation, and not by any personal desire to talk about the subject at hand, is dull and lifeless. As a reader you can tell that the author is just going through the motions.
Third, "what they want to hear" doesn't really exist. There isn't any one thing that admissions officers want to hear. Or more precisely, they don't know what they want to hear until they hear it. An original essay that is written with warmth and humanity, that gives some real insight into the person who wrote it, that sounds like it was written by an actual human being rather than a business-jargon-spewing robot — that's what they want to hear.
So "What do they want to hear?" is the wrong question to ask. The question you should be asking is, "What do I want to tell them?" You have to look at these essays as the best opportunity you have to tell the admissions staff about yourself — about who you are, what motivates you, what your goals are, what you value, what you're good at, how you think, why you make the decisions you make — all the things that make you more than just a transcript and a GMAT score. You have to explore different ideas and different topics until you find something that you are excited to write about. If you enjoy writing about your topic, your reader will enjoy hearing about it.
For example, if you have an essay question that asks you to describe a leadership experience, don't assume it has to be "business" leadership. You don't have to write about being team leader on the XY project "because that's probably the kind of thing they're looking for." Maybe you'd write a much better essay about how you organized a 30-person family reunion for your parents' 25th anniversary last year. Or maybe not. The point isn't that a family reunion essay is inherently better than a work-related essay, it's that you should choose your essay topics based on what you want to write about, not what you think "they" want to read.
A common piece of writing advice is to "write with your audience in mind," and it may seem that I'm recommending you ignore it. But it's precisely because your audience will hate reading the formulaic, wooden, insipid essay that usually results from asking "what do they want to hear?" that you must put in the time and effort to find a topic that generates some enthusiasm inside you. Figure out something you care about that you want the admissions staff to know about you, and write about it with vigor and energy. That's how you get your reader to say to a colleague, "Hey, come read this essay. It's really good."
If you liked this article, let David Ragsdale know by clicking Like.