Save My Essay! "Why a Part Time MBA?" Part 1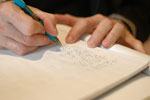 Business school essays are no joke. Both talking up limited work experience and picking highlights from longer careers are a real challenge with restrictive word counts, and while your dream school has read thousands of admissions essays, you probably haven't written a single one since you applied to college back in…was it really that long ago?  No pressure at all, right?
This is the first of a series highlighting the issues with some common business school essay questions. These essays are not models of good behavior!  These are creative collections of the errors, issues, and problems I've seen over the years, the principles I've used to edit them, and fixes I've suggested.
They will not be one laughable mistake after another though – these small works of fiction are meant to be real-ish examples of what people give me when they ask me to edit their work. Since blogs are much more interesting when there is some back-and-forth, I will post the initial essay here and ask you, the MBA aspirant, to tell me what you think the issues are. I plan on avoiding spelling mistakes and typos (point them out if they slip in!), though other Sentence Correction issues like modifying phrases and unclear pronouns may make occasional appearances just for variety.
The question prompts are real prompts with some small edits, though in some cases I've changed the word counts. Here we go!
Why have you chosen to pursue a Part-Time MBA? Why is this the appropriate time for you to begin? (300 word maximum)
Ever since I was a child, I have admired those who took risks to achieve their goals. People who pursued their dreams. Even though both of my parents are divorce lawyers and expected me to follow in their footsteps, my path has always been focused much more on technology and computers. I can remember helping my grandmother send her first e-mail much more clearly than I can remember my mistaken desire to fight a parking ticket in court, which says a lot about me I think. I have always wanted to work at the intersection of technology avenue and people street, and I think a part-time MBA from Awesome Business College will give me the tools to achieve my own goals, to pursue my own dreams.

A part-time MBA from ABC gives me the opportunity to get the much-needed "general" knowledge about the business world that I will need to take my career to the next level, whatever that is. I've always dreamed of owning my own company, and something related to technology seems like a perfect fit given my strong background in both programming and the end-user experience. I'd like to learn how to design services and products, test them, market them, launch them, collect feedback on them, strategize corporate positioning, and just learn how to office correctly. The classes at ABC are of course the familiar centerpiece of its world-class education, but the amazing faculty and diverse and highly-qualified students at ABC are as much a part of the learning process! The classes in a vacuum would simply not convey as much information. I find that I learn a great deal from both books and other people, so having an academic program that does both will give me the best of both worlds.

As for "why now?", I am at a point in my career where it makes sense. I can't really get promoted at my current employer because the next level of management is far from retirement in this economy (but then, that's true of most people). I will almost certainly get a better job on completing my ABC MBA because of its fantastic network of distinguished alumni and international movers and shakers, like G.S. Bailey, whom I saw was a graduate of ABC in the recent CNN article about him. ABC is the right school for me right now, and I am excited to be a part of it.
So what do you think the issues are in this sample essay? Let me know in the comments below. I'll post editorial comments in my next article (Part 2)…so stay tuned!
If you liked this article, let Jim Jacobson know by clicking Like.