A Re-Take on Retaking the GMAT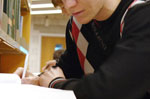 Kevin Leonard is the Guest Author for this piece.

I have decided to repost this article written by one of my colleagues (Anthony) back in August, and add some personal insight in addition to the original text.  You might ask why would I do this.  Well, I have recently been talking to various students who are currently in the business school application process and all have wondered if they should retake the GMAT.  Many of the themes in this article have surfaced in my discussions with applicants.
So you're considering retaking the GMAT. Maybe you weren't satisfied with how you did the first time around, or perhaps your prospective schools have given you some indication that your score isn't quite what it should be. Before you commit to a redo, consider these questions:
Question 1: How prepared were you for the GMAT the first time around?
If you prepared thoroughly and did the best you could, you may not see a significant increase in your score. If you didn't spend much time studying, or were surprised or overwhelmed on the day of the test despite your preparation, you can probably improve your score by putting in additional study time.
To see significant improvement, you must prepare correctly.  A few guidelines to ensure you study enough is to take 5 to 6 practice tests.  Also, try to study 1 to 2 hours a day (and 4 to 5 hours on Sundays) for 7 to 9 weeks prior to your testing period.  For those who consider yourself to be an average test taker, check out this article from Sean McNeil for more good advice on how you can approach the test.
Question 2:  What is the range of scores for admitted students at the schools you are considering?
It may not make sense to spend the time and money to retake the test if you are within the range, even if you're a little below average. You may be better off focusing your efforts on the rest of your application. If the other parts of your application are un-fixable (a poor GPA, for example), then retaking the test will probably be in your best interest.
If you find yourself in this position with weak areas in your application, DON'T BE DISCOURAGED!  It will take some extra work to overcome any shortcomings but it is not impossible.
Question 3: Are you serious about preparing for the test?
Be honest with yourself. If you don't have the time or the inclination to prepare, taking the test again probably won't result in a higher score. The exception to this is if you did feel prepared and just had a bad day. Then, by all means, review your material and head back to the testing center.
If you do decide to retake, be sure you've worked out the kinks in your test-taking strategy. And keep in mind that you can only take the GMAT once per calendar month. In addition, you can take the test no more than five times per year—though why anybody would want to take the test five times is completely beyond us. Your three most recent valid (within five years) scores will be reported on your score report.
If you thought you were simply off your game, think about what you may have done wrong on the day of your last test.  Was there anything out of the blue that was affecting your mindset for the day? I know personally when I have a big game or concert I make sure to prepare both physically and mentally.  The same goes for taking tests, not only do you need to be mentally sharp, but being well rested and healthy prior to the test (proper diet & exercise help greatly) could prove to be just as important.
Question 4: How do the schools you are considering view a retake?
Many business schools do not mind students who retake the GMAT as they will consider their highest score.  On the other hand, some schools may average the scores (depending on how many retakes) so it may not be in your best interest.  Contact your school directly to find out their stance.
Make sure that you research schools you plan on applying to and figure out how they take into account GMAT retakes.  No two schools are identical so make sure that you do your homework to see how they will be viewed, then make sure to act accordingly so that the addition of another score doesn't hurt your application.
Question 5: Do you really need a perfect score (if you broke 700 already)?
The reality is that very few people get a perfect score (less than .025%). Thus while you may be exceptionally capable, the odds are against your achieving a perfect score. Also if you are within the range, it makes more sense to work on other parts of your application that you can make you a stronger candidate.  The extra 20-30 points on the GMAT (in this range) are not as important as well crafted essays.
Question 6: How does the GRE stack up against the GMAT?
Know yourself and the tests.  Everyone has strengths and weaknesses.  This means that some students may be a better fit for the GRE (more vocabulary) and others for the GMAT (more math).  This will help you in your preparation and performance. If you did not know this already, the GRE is changing in 2011 – check out what's new.
So there's my take on retaking the GMAT.  For more great tips on taking the GMAT, check out next week's article where I interview a colleague of mine who is currently in the application process.
If you liked this article, let Anthony Russomanno know by clicking Like.