Campus Visit: What Not to Do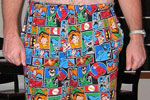 In late February I had the opportunity to visit a top business school for lunch and an information session. While I gained a lot of useful information, something else was the most memorable part of the experience. During the campus visit I met someone – we'll call him Bill – who is the epitome of what not to do on a campus visit. Here's his story:
Bill was late.
The day consisted of two parts. First, a group of four students led the attendees to a nearby take-out restaurant for lunch. This was really beneficial because you could ask questions about student life, classes, and internships. After lunch there was an information session lead by a second year student. This is when I met Bill. About five minutes after our presenter started speaking, Bill barged into the room and blurted out "Is this the presentation? I'm lost." Not only was he tardy, but he also rudely interrupted someone who reviews applications!
Bill was wearing pajamas.
Once the awkward moment passed, I noted that Bill was seriously under-dressed. Everyone was wearing either a suit (some had an interview) or other business casual attire. Bill, of course, was wearing sweatpants.
Bill looked pissed to be there.
Ok, so at this point Bill was fighting from behind. His appearance and punctuality were hurting his impression. Someone with a little common sense would have performed damage control by having a positive attitude. Except this was no normal person. Bill had a terrible look on his face, almost as if he was pissed to be at the information session. He didn't even try to fake a smile.
Bill had no career direction.
The presentation carried on and our speaker had everyone introduce themselves by answering "why an MBA, why this school, and what's next [career goals]?" Most of the attendees had a scripted answer (this was a sharp group), but not Bill. His introduction went something like this "I know I want an MBA because my old boss had one, and I was just laid off so I need something to do."
Bill is an extreme case (trust me, this usually doesn't happen), but each of his mistakes teach a valuable lesson. Not only are campus visits for a prospective student to learn about a school, but they are also for the admissions committee to evaluate you. Before setting foot on campus you should know about the school you're visiting, know why you want an MBA, dress the part, and be on your best behavior.
If you liked this article, let Sean McNeil know by clicking Like.