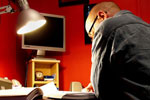 Dave Ingber is the Faculty Manager @ Knewton, where he teaches the company's GMAT course.
Short answer: as long as it takes to get the score you want.
Long answer: with the exception of maternity clothes, most things are not one-size-fits-all. Students begin prepping with different goals, schedules, and time-tables. Some students charge through our on-demand course in a weekend–while others take, re-take, and re-re-take our course for a year. That being said, below are a few effective study plans; hopefully, you can pick the one that's right for you!
5 – 6 Months
For an ambitious test-taker with an equally ambitious work-life, studying for six months allows you to get in-depth with the material, space out your CATs, and never let the GMAT overrun your life.  Take every question in the Official Guide, forget them all, and then take them again months later with all your newfound knowledge.
This length of time is great for students with little or no grammar knowledge. You can learn the grammatical rules in a few hours, but it takes months to apply them properly. Make an effort to speak with proper parallelism and unambiguous pronouns. Make mental notes every time your friends make grammatical mistakes in conversation (but don't point them out if you want to maintain your friendships).
Carve out 2-4 hours per week for the first few months, and 6-8 hours per week in the two months before the test. You don't want to get burned out, and you definitely don't want to let consecutive weeks pass by without looking at your materials. Study at the same time each week; don't squeeze in three CR questions during a hurried lunch break and two more while you brush your teeth.
Take one CAT every month to start, and then take 3-4 CATs, including the official ones on MBA.com, in the 2 weeks before test day.
2 – 3 Months
The Goldilocks Study Period: not too long, not too short. Take a CAT to establish a baseline score, memorize the GMAT idioms, and begin implementing them into your everyday writing.
Look for similarities in the questions you got wrong. If you get two exponent questions wrong, what rule was it that tripped you up? Create a checklist of items that have given you trouble so that if you see exponents again, you won't be fooled the same way.
Try to maintain two sessions of GMAT work per week on top of a class or two. Take a CAT every couple weeks. You can burn out if you try to do too much too quickly; just look at child actors or neutron stars.
<1 Month
Don't panic! Make sure you've booked a test date; you can take the test whenever you want, but test centers do fill up.
Spend most of your time on Sentence Correction, the most learnable section on the GMAT. Memorize the idioms, learn how to ignore modifiers and prepositional phrases, and understand parallelism.
On the math side, drill Data Sufficiency. It's the quirkiest and least intuitive question-type on the GMAT.
For CR, identify the "common assumptions" and "common weakeners" on the GMAT. Obviously, they're called "common" because they show up in many questions.
Be very flexible when it comes to learning guessing strategies; you may not have time to learn every piece of content tested, so enter the test armed with some ammunition about the test's underlying structure.
Spend the least amount of time on the Reading Comprehension section. There are certainly strategies you can learn, but they should be practiced and developed over time. In a shortened study window, you have to be happy with the reading skills you have.
Take one CAT per week, and take the two CATs on MBA.com 7-10 days before your test; re-take them until you have seen every question in the CAT pools.
Overall
No matter how naturally adept you are at the GMAT, you probably don't have time to do more than answer questions and practice timing on your own. However, if you take a GMAT course, your instructor will be able to tell you exactly what is on the test and, just as helpfully, what isn't. The company I work for has bundled thousands of GMAT questions according to what concepts they test; practicing questions that test the same concepts vastly increases your studying efficiency and helps you target your weakest areas.
If you liked this article, let David Ingber know by clicking Like.