GMAT Now Administered on Facebook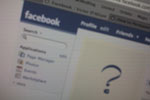 GMAC has announced that it has reached a deal with Facebook to administer the GMAT online. Beginning today, users can download an application on the social media juggernaut's website and take the test immediately. This partnership is a groundbreaking merger between social media and business school, signaling that GMAC is serious about reclaiming its position against the GRE.
The agreement could also transform the application landscape. The first update, planned for later this year, will require an online profile snapshot to be sent with the test results. This will include status updates, embarrassing tagged photos, and a full list of fan pages. It could be troublesome if an applicant is a fan of both Wharton and HBS, but applies to Columbia.
Payments for the test can be made using Facebook credits. Credits are purchased on the site, and can also be used to send gifts such as an image of the Millennium Falcon… if you're into that sort of thing. Testers should be aware that there is an additional $50 fee for the convenience of taking the test through FB.
The announcement has triggered mixed reviews. @BoothFanSam likes the news and tweets: "I'm really excited!! Now I can take the GMAT while playing Farmville and Mafia Wars." Others haven't shared the same enthusiasm. @MBAJustOutsideBoston tweets: "This is egregious. It devalues both my GMAT score and business degree. And no, I didn't go to Tufts."
There are rumors that a similar deal is being finalized through Twitter although no official announcement has been made. MySpace is also rumored to be working on a deal, but seriously, who still has an account there?
If you liked this article, let Sean McNeil know by clicking Like.