13 Sentences to Glory! (The GMAT Analytical Writing Assessment, Part 2: Issue Essay)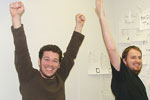 The GMAT Analytical Writing Assessment (AWA), which consists of two 30-minute essays (Analysis of an Argument and Analysis of an Issue), is the least important part of the GMAT and the least important part of your application to business school. Still, read on.
First off, you should know that the AWA score is completely separate from the Math/Verbal (200-800) score. Second, a high AWA score won't offset a low 200-800 score—in other words, you're not going to "AWA-your-way-in" to business school. Third, as long as you've got the 200-800 score you need, a low AWA score probably won't hurt you. Still, you don't want such a low score that admissions committees will take notice.
Essentially, you can look at the AWA as a pass/fail proposition: AWA scoring is from 0-6, and scores of 4 or above (not too difficult to attain) are passing. The AWA is a relatively manageable task (much easier than the Math/Verbal for virtually all testers), thus nothing to fret about. However, when you take your GMAT, the first thing you have to do is write the essays, and that hour of writing is an important warm-up for the Math and Verbal sections. Notice that I said "warm-up"—the key is that the essays must not cost you too much mental energy. Whether you're realistically aiming for a score of 4 (good enough for the essays to be a non-factor in your application to business school) or 6 (the top score, which is good enough for the essays to be a non-factor in your application to business school), the essays need to be easy for you.
No outside knowledge is required for the AWA Essays and there's nothing you need to study to prepare for them. (Though reading a few samples would be a good idea.) You simply need a template for both Argument and Issue Essays and a little practice. For guidance on the Argument Essay, go here. To make the Issue Essay nothing more than a matter of going through the motions on test day, follow the guidelines below.
Analysis of an Issue Essay: Pre-Writing
The Issue Essay is essentially a short position paper. Before you start writing, you need to decide whether you Agree or Disagree with the Prompt statement. Next, you need to jot down 3 reasons for your position and 1 example to back up each reason (for a total of 3 examples). For examples, draw from current events, history, science and technology, business, literature, etc. Personal and even hypothetical examples are fine, too, as long as they're relevant and well analyzed. However, you want to have a breadth of examples, so try to use at most 1 personal example. The important thing is that your examples are specific and of import. World War II is of import; a fight you got into in 3rd grade because someone stole your lunch probably isn't. Once you've got three reasons and three examples down,  you're ready to write, as long as you know to use the Outline below.
Analysis of an Issue Essay: Outline
I. Introduction (2 sentences) – Pick a Side; all you need to get across here is whether you Agree or Disagree with the Prompt statement.
II. Body Paragraph 1 (3 sentences) – Reason 1/Example 1/Analysis.
III. Body Paragraph 2 (3 sentences) – Reason 2/Example 2/Analysis.
IV. Body Paragraph 3 (3 sentences) – Reason3/Example 3/Analysis.
V. Conclusion (2 sentences) – Summarize key points and reiterate your position. Stick to the old adage for conclusion paragraphs: "Tell 'em what you told 'em."
Important Notes:
Notice that 2+3+3+3+2 = 13. That's 13 sentences total, and that's all you've got to write on your Issue Essay. Of course, there's no reason you can't write more and there's no reason to worry about counting your sentences as you write. In fact, in analyzing your examples, you may well wind up with Body Paragraphs that are more than 3 sentences. However, writing more than 13 sentences is not strictly necessary, even if you want to get a 6 (the highest score). Therefore, the Issue Essay is a matter of 13 sentences to glory!
Stick to the 5-paragraph Intro-Body-Conclusion format because 5-paragraph essays tend to receive higher scores than 4-paragraph essays. Writing 6 or more paragraphs is also fine, of course, as long as you stick to the Intro-Body-Conclusion format.
Even more than providing reasons for your position, using specific, well-developed examples is the key to performing well on the Issue Essay. Let your examples guide you.
If you can't think of a specific example to back up a reason, a general supporting example is better than nothing. But never start simply listing out examples. Remember, 1 example for each reason.
Stay focused on the Prompt statement. Don't let your essay stray off topic.
Stick to one idea per paragraph. Discuss one reason/one example in each paragraph.
First person (the use of "I") is fine—use it, it's easy. You don't need to be overly formal.
You also don't need to use big words or try to be fancy stylistically; good GMAT writing is all about clarity.
Use explicit transitions and other phrases that highlight the logical structure of your essay. "First," "Second," "Third," "In conclusion," "For example," "Similarly," "However," etc., are all good. In other types of writing, stilted transitions are not considered ideal; on the GMAT, the important thing is to show that you know that transitions are supposed to exist.
Analysis of an Issue Essay: Process Summary
Performing well on the Issue Essay is a matter of following the directions, structuring your essay properly, and demonstrating solid writing mechanics. Thus, before you do anything else, read the directions to get your bearings and be sure that you're clear on which essay you're writing. The Issue Essay will be the second of the two, but you don't want to confuse them, and there's no need to rush. Next, be sure to read the Prompt statement carefully; your essay must directly address the Prompt statement (this is essentially another component of following the directions). Other than these basics, follow this process:
a. Pre-Writing: 5 min.
b. Write: 20 min.
c. Proofread: 2-3 min.
That leaves you 2-3 minutes to play with. Keep in mind that Pre-Writing (Picking a Side and Brainstorming examples) is the foundation for a well-written, high-scoring essay. (By the way, you don't really need to outline your essay because you'll have the Intro-Body-Conclusion template memorized.) If you apply the basic process above, use the prescribed Outline, and write the essays every time you take a practice test—something you should do for endurance's sake anyway—you'll be more than adequately prepared for the Issue Essay. Most importantly, it'll be simple and easy for you on test day. No sweat!
For guidance on the Argument Essay, click here.  If you follow the prescribed formulas for both the Issue and the Argument Essays, you should be well on your way to scoring 5-6 on the AWA. Good luck–it'll be a breeze!
If you liked this article, let Elia Zashin know by clicking Like.