The Complete MBA Student Lifecycle: From a Tadpole to a Prince (or Princess), Part 4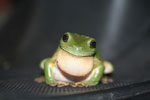 In part three of this series, we discussed what to expect during your first semester of classes, a bit about the summer internship recruiting process and also the importance of company presentations and networking with alumni. The journey continues…
By the time your first semester as an MBA student draws to a close, you will welcome the winter break with open arms. You will see that your life as an MBA student is extremely busy, chock full of studying, group projects, attending company presentations, intramural sports, socializing, and just getting things done in general. By the time you are finished with your finals of first semester, you will be glad to have a few weeks off to get your head in order and you will probably be wondering where the heck the time went. Some schools go on a big skiing trip (this is optional and is not included with your tuition) the day after finals, including destinations such as Vail and Whistler. Check to see if your school has such a trip, as it is a great way to round out your first semester of school with many of your classmates. It is also nice to have a bit of a break before you head back to visit family for the holidays and start to plan for your next semester.
Odds are that you attended a few company presentations during your first semester and that you have targeted a few companies for your summer internship. It might be a good idea to organize your thoughts during the winter break and to plan your summer internship "attack" for the next couple of months. This entails keeping in touch with the people you have networked with, doing further research on these companies, and creating a schedule of upcoming events and internship applications. You will be glad that you did this before second semester starts, as you will soon be knee deep again in schoolwork and other things.
Second semester is not too different from first semester, as you will probably still have your "core classes", which might include another finance class, a strategy class, and perhaps a marketing class. Companies will soon be selecting those students that they want to interview for summer internship positions, so be aware of these application deadlines. It depends on the industry you are targeting, but the interview process usually consists of one or two rounds of on-campus interviews (in your school's career center), though some firms will have interviews in their office.
Many schools offer study abroad options and you probably have figured out whether or not you want to study abroad (usually this will be the first semester of your second year). As with any decision, there are pros and cons to studying abroad and you should really do some thinking before you make this choice. I'm not here to sway you one way or the other, but don't fall for the "oh, I can go travel the world for a semester instead of studying". This is a great reason to study abroad, but bear in mind that if you are attending a top school, you are more than likely "downgrading" your MBA learning by attending a school abroad (though there a few amazing schools abroad, such as London Business School, among others).  There is probably a reason why you chose the school you did and studying abroad effectively reduces your time at that school by 25%, so it is something to keep in mind. But if you do decide to go abroad, the beginning of winter quarter is usually the time when applications to schools are due (actually, more than likely you will apply through your school, not directly to the school you are applying to). Make sure to keep informed of this process and don't miss your deadline!
You'll soon notice that second semester is more about managing deadlines and staying on top of everything that is going on. There are a lot important milestones and things to get done, and overall it is a bit of a different vibe than your first semester at business school.
This article is the fourth in a series…be on the lookout for the fifth piece, where we will discuss the end of your first year and what to expect leading up to your summer-internship. It'll be crazy fun, but watch out, the time flies by, soak it all in! Soon you will be at your desk in your internship and will only have one year left of biz school, so enjoy it!
If you liked this article, let Martin Sobolewski know by clicking Like.