Get the Edge at an MBA Tour or Fair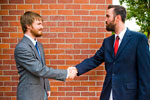 One of the most important aspects of applying to business school is selecting the program that is best suited to your interests and career goals.  Tours or Fairs provide you with an opportunity to gain in-depth information from school representatives that will help you evaluate programs and find the best fit for you.
Attending an MBA Tour Event will put you directly in touch with business school admissions directors and alumni from the nation's best MBA programs to discuss what an MBA can do for your career and what it takes to get accepted to these programs.  You can register at www.thembatour.com for Feb. 2 (San Francisco), Feb. 6 (New York City) or Feb. 7 (Washington DC).  Dates for September 2010 have not been released.
So here is a list of what can you do to set yourself up for a successful event (this will apply to other types of fairs as well):
Before the Event
Start with the end in mind. Make concrete connections between the value the tour represents and

your personal and professional goals

. Outline several goals that you are committed to and keep them in mind throughout this process.
Explore the schedule. Review the agenda to see who will be attending.  Don't wait until the event has started before planning your schedule.  Be selective and strategic about your time.
Prepare your scouting report! Research the schools that might be of interest to you.  If you spend a little time getting some background, then you can ask very focused and specific questions. This impresses representatives because it shows a genuine interest in them.
Pull Rank. According to your preference, visit ones you are most interested in first so that you have plenty of time to gather as much information as you need.
Work on your commercial – a brief pitch to sell yourself! Write, edit, and practice, practice, practice what is called in the business world your "elevator pitch" – basically, the ability to talk about yourself and your interests in a concise yet informative manner in the briefest moment of time. 

The formula

includes name, relevant experience (work, internship, volunteer work), highlights of skills and strengths but tailor your introduction to each school based on good research and knowledge of each program.
Shake it off. While you're at it, check that your handshake isn't a bone-breaker or like limp lettuce.
Prepare a list of the most important questions you'd like answered.  It's easy to forget things when you're rushed or excited. This will help you determine if there is a match between the program and your interests and goals. Your questions may address topics/factors such as: Reputation of the Faculty, Quality of the Program, Cost, Admissions Requirements, Curriculum, Employment/Placement, Geographic Location and Student Life.
During the Event
Get your bearings. When you arrive, take a few minutes to review the map and schedule.  Use your scouting report to plan the school presentations you plan to attend.
Make a good first impression. Greet each rep with a smile, a strong handshake and a positive attitude.  Psychologists have proven that people who smile are better liked than those who don't.   Make eye contact immediately when introducing yourself.
Don't be shy and establish rapport! Walk up to the admissions rep and let him or her give you the one-minute overview of the school (if you did not attend the presentation). If you like what you hear, you can stay and ask more questions.  Make sure you listen carefully to their answers and before leaving, be sure to close the conversation and thank them.
Remember the titans! A great movie but more importantly remember the representative's name; if not, casually refer to their name tag.
Engage the rep with your specific questions. First and foremost, questions should be natural. Be yourself. Don't rifle your questions; maintain a natural flow.
Communication is critical! Listen carefully to what the representative has to say! Avoid using filler words such as "um", "like", "you know." Show confidence in your voice.  Body Language often can speak louder than the spoken word:  Do not fidget, play with your hair.  Do not rock from side to side. Do not look around when talking or being spoken to.
The E & E show.  Energy & Enthusiasm are important qualities.  You will be on your feet moving from table to table. Each time you meet someone, be at your best, as refreshed as possible and be enthusiastic about being there working on your future.
Explore all your options! Speak with reps that you had not considered before. Take the initiative and engage in meaningful conversations. Reps are here to provide information and are excellent resources in your search and decision-making process.
Dress appropriately.
Be prepared to answer questions from the admissions representatives, such as, "Why do you want to attend business school?" and, "When?" + your experience,  long-range goals, strengths and weaknesses, etc.
Pick up cards. Collect business cards from reps you speak to. Jot notes on the back of the card. Use those notes—and the information on the front of the card—to personalize your thank-you e-mails.
Take notes when you inquire about next steps and the possibility of talking with additional admissions reps.
The GMAT. Learn the ins and outs of the GMAT at The Princeton Review's strategy session if you feel that this may be a concern on your application.
After the Event
Reflect. Take time to reflect on your experience—did you accomplish your goals?  If not, why not?  What would you do differently next time?  Write all of this down so you don't forget it!  What might you undertake to improve your skills?
Follow-Up.  Send a brief email to key people that you met, particularly if they went out of their way to help you, saying something about what you got out of the conversation or their presentation.  It can also bring attention to your name.
Options. Hopefully you will get a better sense of your business school options. If you have used the event correctly, you will have made contact with several schools that match your profile and interests. In thinking about their needs and your background, evaluate whether each school might be a match for you.
Self-confidence. Did you gain some in interacting with admissions reps? A fair gives you the opportunity to practice your communication skills in a less formidable environment than a formal interview. Use this experience to practice talking about what you have done, what you know, and what your interests are.
Unsure? If you are still unsure about what to do, keep plugging away as these events or talking with colleagues, friends, family and experts.
If you liked this article, let Anthony Russomanno know by clicking Like.