Studying for the GMAT in a Crunch: A 2-Week Study Plan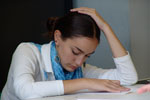 The GMAT is not an easy test, as evidenced by the immense variety of educational products devoted to GMAT preparation. Most business school applicants require two or three months of diligent study to hit their target GMAT scores. Investment in your GMAT prep usually pays off in your MBA candidacy, since a good GMAT score can mitigate other less-than-perfect elements of a business school application.
This article describes a two-week study plan for business school applicants who are under severe time pressure to take the GMAT. With a two-week prep plan there is little time to focus on anything else except the test essentials and your weak spots. As a result, you might not perform to your full potential on test day. This usually translates into a lower score–how much lower depends on your study habits and your natural test taking abilities. However, in some cases it may be worth cramming, for example meeting the deadline for a scholarship you've just stumbled upon. There is an obvious tradeoff you have to face, so unless it's an absolute necessity, try to allot more time to preparation.
Day 1 – Diagnostic Test and Preparation Plan
The very first step in your GMAT prep is to register an account on MBA.com, the official site of the GMAT. This site is set up mainly to enable registration for the GMAT, but it is also a good source of information regarding the test. The different sections and scoring of the GMAT are neatly summarized in the free GMATPrep software, which also contains some review questions and two computer-adaptive practice tests (CATs). These two tests are the best predictors of your current GMAT score because they feature real, retired questions that are similar to what you'll see on your big test day.
After going through the information in the GMATprep software, you should take your first mock test. This diagnostic CAT should help you identify the type of questions and the topics that you're having trouble with. When analyzing your results, you need to keep in mind that merely getting a question right is not enough–you need to get it right in the average allotted time of 2 minutes per quantitative question and 1 minute and 45 seconds per verbal question. As such, when mapping out your weaknesses, make sure to take note of the types of problems that seem to take lot of your time. Proper pacing is extremely important since not finishing the test on time will have a dramatic negative impact on your score. Also, keeping an error log is advisable, since it is an excellent method of tracking your performance.
Days 2 to 5 – Targeted Quantitative Practice
Shopping list:
Two basic principles should govern the way you structure your prep: First, since you have about five days to brush up on math, you will need to focus your efforts on only the most commonly tested topics on the GMAT. Second, because you have little time for practice, you cannot afford to use anything else except official practice questions from the Official Guide for GMAT Review (OG).
In order to address these constraints, I recommend you use the three Manhattan GMAT guides listed above. These guides present a fairly dense review of their respective concepts, but they are neatly structured into chapters so that you can go over only the topics you're sure to see on test day. Another plus is the fact that each book lists problems from OG that specifically address the concepts in each chapter. These lists are valuable, since it means that after going through the lessons in the Manhattan GMAT guides, you can then do some targeted, Official Guide practice for the topics you've just studied.
In my experience, the same few math topics just keep popping up in GMATPrep tests and in the real GMAT. These topics are explained in the first three chapters of the Number Properties Guide (with a special mentioning of primes) and the Word Translations Guide (rate-time-distance and work-rate problems are among the most common) respectively. Geometry problems are tested less frequently than arithmetic problems on the GMAT, but they still account for a significant portion of the quantitative section. As such, I advise you to look over chapters 1, 2 and 5 of the Geometry Guide.
Quickly browse through the chapters that feature topics where you are already strong; go straight to the last few Official Guide questions (these tend to be the hardest) that address these topics. For chapters that feature concepts where you are weak, make sure to be more thorough in your review by making flashcards out of concepts or problems you're struggling with.
Another important piece of advice: spend equal time in your math review addressing the two types of quantitative questions on the GMAT: Problem Solving and Data Sufficiency. You're probably familiar with problem solving questions already (these types of questions are tested more frequently on the GMAT math section), but Data Sufficiency is unique to the GMAT. Data Sufficiency involves evaluating two pieces of information and deciding whether they present enough data ("sufficient") to answer a given question. You'll need some time to get used to these problems.
Days 6 to 11 – Verbal Practice
Shopping list:
After you've covered the basics regarding the quantitative portion of the GMAT, it's time to address the verbal section. You'll see three question types on test day: Sentence Correction (grammar questions), Critical Reasoning (includes analyzing an argument and answering a question regarding its content or structure) and Reading Comprehension. As with quant, with two weeks of prep there's no time to practice unofficial material and you need to prioritize your study according to the most relevant topics.
Before you jumping right into practice problems, ground yourself in some GMAT verbal concepts. For this, I recommend the Kaplan GMAT Verbal Workbook. In my experience, it's better to start off with reviewing Sentence Correction questions, since they are easiest to improve upon of the three different verbal types. In order to get the most out of the very little time you have, I advise you to practice using a 2-3 split, a useful technique when dealing with Sentence Correction. The split is a "natural" way of grouping answer choices (usually in groups of two or three), since there will always be some sort of similarity between your options (such as the tense of a verb). Once you have established that a certain element is correct (say for instance that the correct verb tense is present tense), eliminate the whole group that has this error. This saves time by helping you eliminate choices "in bulk". Also, note that some topics are almost always tested in Sentence Correction: parallelisms, subject-verb agreement and pronouns.
Critical Reasoning should be next in your verbal prep. This type of question can actually be broken down into several other subtypes, depending on what is asked of you: to strengthen or to weaken the argument, to find an underlying assumption, and so on. The three types of Critical Reasoning questions listed above are also the most common, so review them properly.
Reading Comprehension tends to be the most difficult to improve upon quickly, especially if you are not a native speaker of English. However, the Kaplan GMAT Verbal Workbook features some solid tips for actively reading a passage, tips that you should integrate in your strategy for attacking this question type. Main point and inference problems will likely appear on test day, so review these questions.
For all the three types of GMAT verbal questions, do a few problems from each difficulty level from the Official Guide for GMAT Review. The questions in OG are listed in increasing order of difficulty, so practice a few from the beginning, the middle and the end of each chapter. How many questions of each difficulty depends on your weaknesses and strengths: if Critical Reasoning is not challenge for you, then you can focus on the harder questions and devote more of your time to the other two types of verbal questions.
Days 12 to 14 – Final CAT and Review
On the 12th day, you should take the second practice test from the GMATprep software. This final CAT is a good indicator of the progress you've made over the last two weeks.  Make sure that you take this practice test under simulated conditions, by respecting the breaks between sections and time limits. Any striking difficulties that you encounter in this test should be addressed in the last two days of your prep. Spend days 13 and 14 by doing a light review of the OG problems you were most uncomfortable with (hence the importance of an error log) and by going over some templates and tips for the Analytical Writing Assessment.
Finally, remember that the GMAT is a physically grueling experience: the test lasts for more than three and a half hours, so relax on the eve of your test day. On your actual GMAT test day, eat a nice big breakfast and stick to your normal routine; this will help you fend off any nerves.
It's now the end of two weeks.  Congrats on completing some solid GMAT prep!  Good luck on your GMAT test and be sure to share your success story with the Beat The GMAT community.
If you liked this article, let Dana Jinaru know by clicking Like.